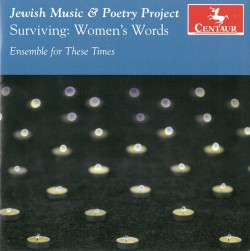 Jewish Music & Poetry Project: Surviving Women's Words
Ensemble for These Times
Centaur Records CRC 3490 (centaurrecords.com)
With the release of this deeply moving and well-conceived project, the San Francisco-based Ensemble for These Times (E4TT) has put forth a superb and relevant spoken word and musical recording. Composer David Garner has created a song cycle that underscores powerful poetry written by four female, Jewish, Holocaust survivors: Mascha Kaléko (1907-1975), Rose Ausländer (1901-1988), Elsa Lasker-Schüler (1869-1945) and Yala Korwin (1933-2014). Garner has also assembled a fine ensemble, including soprano (and E4TT founding member) Nanette McGuiness, pianist Dale Tsang and cellist Adaiha MacAdam-Somer.
Opening the cycle is Chanson für Morgen (eight poems by Kaléko). On Lied zur Nacht, Garner is seemingly metaphysically connected to Kaléko, and has musically captured the nearly Arctic, lonely introspection and unsettling disconsolance of Kaléko's poetry. Sophisticated voicings and sonic clusters define this work, and McGuiness' dynamic soprano is the alchemical component that makes it all work. Also stirring are Nachts – a macabre, melancholy waltz that whirls the listener into the abyss – and the very contemporary Herbstanfang, which features a sonorous and complex cello counterpoint by MacAdam-Somer.
The only section of the cycle to be sung in English is Song is a Monument (five poems by Yala Korwin). Korwin lived in the United States until the time of her recent passing, and her Yankee influence is clearly felt and complemented exquisitely by Garner.
Now more than ever, as the U.S. experiences a déjà vu of hatred and is poised on the brink of societal unravelling, the potent and timeless messages of survival, love, tolerance and forgiveness contained on this brilliant presentation need to resonate throughout the world.