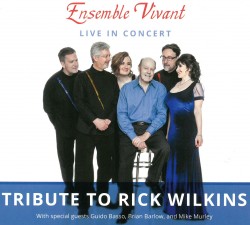 Tribute to Rick Wilkins
Ensemble Vivant with Guido Basso; Brian Barlow; Mike Murley
Opening Day (ensemblevivant.com)
Ensemble Vivant is just the chamber group you would want when you need music to sound symphonic. And when you add the husky seduction of Guido Basso's horn, the cool eloquence of Mike Murley's tenor saxophone, the rumbling majesty of Jim Vivian's bass and the percussion colouring of Brian Barlow, what you get is absolute magic.
This is exactly the case with Ensemble Vivant's live Tribute to Rick Wilkins, a fitting homage to the prodigious composer, arranger, conductor and tenor saxophonist. He was a pillar of such legendary bands as the Canadian Brass and the orchestra of the Canadian Broadcasting Corporation (among many others), and onetime music director of CBS, Los Angeles – credentials surely deserving of the rhapsodic homage accorded the 81-year-old by the Ensemble here.
This is chaste and faultless Wilkins-arranged repertoire ranging from Kern and Gershwin to J.S. Bach and Ernesto Lecouna, presented on DVD (directed by Darryl Lahteenmaa) and on CD (captured with muted serenity by Chad Irschick). Led by pianist and artistic director Catherine Wilson and comprising violinist Corey Gemmell, violist Norman Hathaway and cellist Sybil Shanahan, the music (recorded at Grace Church on-the-Hill in Toronto) sheds fresh light on Wilkins' work. An obsessive perfectionist, he polished these works into gleaming gems. As a composer who also played piano, he seems to have written for the instrument idiomatically and this is heard in everything, most especially on Ragtime from "Divertissement".
Ensemble Vivant parleys with the familiarity of old friends, yet their playing always retains a sense of gracious etiquette associated with the noble chamber ballroom for which this music was intended. Nothing is forced, exaggerated or overly mannered; tempos, ensemble and balance all seem effortlessly right. The string sound is lucid, while the trumpet, flugelhorn and saxophone add great warmth and swing. These are, in sum, sincere and poised accounts, a fitting tribute to the musical character of Rick Wilkins.