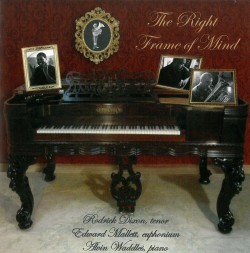 The Right Frame of Mind
Rodrick Dixon; Edward Mallett; Alvin Waddles
Blue Griffin Records BGR 411
(bluegriffin.com)
Take three accomplished performers on the unlikely combination of the tuba-like euphonium, piano and tenor voice, energetically performing music ranging from classics, show tunes and traditional, and a curiosity becomes an uplifting, unusual musical experience.
Each performer is having so much fun! Rodrick Dixon's tenor voice is over-the-top enjoyable in flair, diction and spirit. Edward Mallett on euphonium is equally solid in keeping the bottom end in place but really shines when he takes the lead on the melody. Pianist Alvin Waddles plays with dynamic conviction, technical flair and colourful jazzy lines. As all three performers joined forces in arranging the selections, each respective part is playable and inventive. The opening track I Got Plenty o' Nuttin' from Porgy and Bess immediately showcases all the great music to come with an upbeat piano lick and bouncy horn melody opening followed by a stadium-filling vocal rendition. Nessun Dorma from Turandot starts on a more traditional operatic setting with piano and voice, and when the euphonium joins in on both melody and accompaniment, a full orchestral-sounding performance transpires. A Patriotic Salute is an uplifting witty medley of American standards such as Stars and Stripes Forever which fits the instrumentation perfectly.
The performers' mutual respect of the music and each other is evident throughout. It may be a bit too extreme in sentiment for some yet it is really difficult not to at least smile if not laugh out loud when listening!