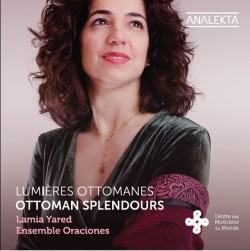 Ottoman Splendours
Lamia Yared; Ensemble Oraciones
Analekta AN2 9176 (analekta.com/en)
Diverse does not begin to describe the musical heritage of the Ottoman Empire. Full credit then to Lamia Yared, who has assembled a suitably diverse CD, drawing on Sephardic, Turkish, Hebrew and Greek music. Full credit to Didem Başar for her plaintive settings of most of the songs on the CD.
The backbone of the collection comprises a group of Ladino songs, some of which feature melodies that would not be out of place among the courts of medieval Europe; Dicho me habian dicho is a case in point with the haunting singing of Yared and its vivacious string accompaniment.
Ensemble Oraciones' interpretations of the Turkish songs bring home the liveliness of this tradition; for example, Niçin gördüm seni highlights all the Ensemble's players, one by one, in a spirited performance enhanced by Yared's yearning voice.
Perhaps the most eccentric tracks on the CD are the songs written by Greek composers. Kouklaki mou (My Doll) begins with a clarinet intro by Yoni Kaston in full accordance with the rebetiko tradition of the Greek underworld. The tune may have been borrowed by Judeo-Spanish musicians but Kouklaki mou has its own place in Greek music – performed by women singers delivering their song within the hashish dens of Athens (the little doll is not the sort of woman you would want to bring home to any Jewish mother.)
Mention should certainly be made of the instrumental contributions, for example the staccato drumbeats of Tres morillas eventually interweaving with the urgency of the kanun part. The versatility of the kanun is in fact proven by Başar's own playing.
The performers were very brave in condensing music from a whole swath of Europe onto one CD – which demonstrates how right they were to amalgamate their exceptional talents.