Solstice Spirit – The Musical Visions of Sister Gildaherd the Benign
Kirk Elliott
Pipistrelle Music KESS2016 (pistrellemusic.com/kirk-elliott)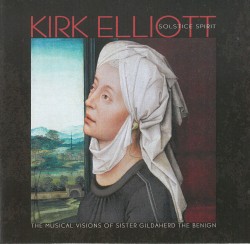 Multi-instrumentalist and merry prankster Kirk Elliott has been very busy preparing for the onset of winter, it seems. Following up on his 2015 release Widdershins – the Legend of Tristan Shoute, the master of parody and deceit has outdone himself on this latest offering, just in time for Solstice celebrations. As is his wont, Elliott plays no end – literally – of plucked, bowed, blown, squeezed and banged instruments spanning centuries and cultures (i.e. from Renaissance lute and psaltery, to balalaika, sitar and guzeng, Celtic harp to harmonica and accordion to electric guitar, to name just a few). He gets a little help from friends Rebecca Campbell (sultry voice), Don Rooke (honey-dripping Hawaiian slide guitar), Alison Melville (tuneful tenor recorders) and Ben Grossman (hardy hurdy-gurdy) on a few tracks, but this is mostly a solo project.
​Whereas in Widdershins Elliott created a heroic character who appeared in various guises and historical time periods, in this instance the conceit is the story of a young woman who rises through the ranks of a nunnery to eventually be elected Mother Superior. This is a title and position she rejects however as she abolishes the hierarchy in favour of an equitable sisterhood. So, who was Sister Gildaherd the Benign? We are told that "The youngest of twelve children, Gildaherd lost her entire family within months, due to primitive medical conditions, jousting, and head cheese. Relocated to an obsolete convent, she was tormented by insomnia – until she found a mysterious herbal cure, which somehow rendered her susceptible to auditory hallucinations." Elliott has created an imaginative, festive collection of Gildaherd's musical visions, from reworkings of The Huron Carol and Edi beo thu to She's Like the Swallow and Polorum Saskatoona. The last mentioned is Elliott's take on the medieval Marian hymn Polorum Regina, "Queen of Heaven," in a Canadian variant substituting his hometown of Saskatoon for the namesake capital city of Saskatchewan.
​Elliott's original alias Tristan Shoute himself also makes an appearance, at least off-stage, in the album, with a visit to the convent where he briefly tutors the sisters in the musical arts, and leaves in his wake a string of "virgin" births. The musical styles included in this Solstice offering are as eclectic as Elliott himself and I thank him for sharing his wit, wisdom and wonderful musicality with us again.
David Olds is reviews editor at The WholeNote. He can be reached at discoveries@thewholenote.com.