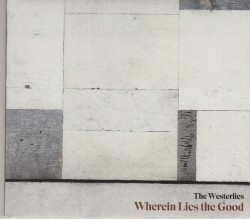 Wherein Lies the Good
The Westerlies
Westerlies Records WST001 (westerliesmusic.com)
The Westerlies are a brass quartet playing postmodern roots music with classical finesse while throwing in some down and dirty jazz licks and a few extended techniques. Wherein Lies the Good is their third album and the current members are Riley Mulherkar and Chloe Rowlands (trumpet) and Andy Clausen and Willem de Koch (trombone). The album is just over an hour with 18 songs and they run the gamut from Charles Ives to five gospel numbers transcribed from the Golden Gate Quartet's arrangements, and an original from each member of the group.
One of my favourites is Robert Henry, written by Clausen for his nephew's birth. It has a beautiful lilting melody played by the trumpets over pensive and moving trombone bass lines. It contains strains of minimalism with rapid fire exchanges between the trumpets and crisp articulation from everyone. Like many of the works, it has several sections which shift moods and keep the listener engaged. On the other hand, Entropy Part II becomes densely discordant and downright spooky. Wherein Lies the Good is a fresh delight and the arrangements make the four horns seem like a much larger ensemble.