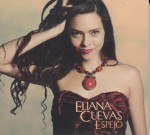 Espejo
Eliana Cuevas
Independent EC003
www.elianacuevas.com
In continuing her stellar trajectory as an award-winning songwriter and vocalist (2007 — Toronto Independent Music Award for World Music Artist of the Year, 2008 — nominated Canadian Folk Music Awards for Best World Music Solo, 2009 — National Jazz Award for Latin Jazz Artist of the Year), Eliana Cuevas spent the past three years creating this dynamic and soulful fourth CD release. Her partnership with producer/pianist Jeremy Ledbetter, along with a great line-up of Latin and jazz musicians including George Koller and Mark Kelso, makes for an eclectic mix of styles performed with artistry and heart.
The vocals are rich with new experience, the musical arrangements sophisticated and savvy. From the sultry blues/torch song Lamento to the quirky, playful and humourous El Tucusito with its traditional Venezuelan joropo rhythm performed at lightning speed, she and her collaborators move deftly through a great variety of moods and tempi. The first track Estrellita is most danceable — full of joy and exuberance — and the penultimate track, Melancolía, is the jewel in the crown, evoking a wistful yet deeply powerful longing in its portrayal of the hardships of immigration. All in all, a collection of songs fairly bursting with life and energy. I can't wait for the live show.
Concert Note: Eliana Cuevas will launch Espejo at Lula Lounge on May 15.