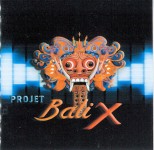 Project Bali X
Giri Kedaton
Independent GKN-10809 (www.girikedaton.com)

First of all, Projet Bali is defiantly not your chill-out ambient gamelan album. It is however a genre bending, skillfully composed, performed and recorded compilation by the crack Montreal Balinese gamelan group Giri Kedaton. Never academic, it incorporates with élan Western popular and classical musical elements with straight-up and twisted Balinese gong kebyar instrumentation and musical textures.

Glancing at the album's titles is a dead giveaway to the cheeky culture-mashing intentions herein. Bali Hillbillies layers gong kebyar with the rock trinity: electric guitar, bass and drum set, with blood-pumping results. Ritual du Citadin continues the rock trope mirroring drum set breaks with kendang (drum) and ceng-ceng (Balinese multiple cymbals) features, underscored by spacey synth textures and rippling kotekan (interlocking patterns) provided by the rest of the gamelan.

The musical and material 'metal' metaphor is brought to the surface in Jembatan Metal. I find that the tempestuous Balinese kebyar ("burst in flame") music & heavy metal rock energies and gestures suit each other so well that it made me wonder what took so long to marry them?

The album also embraces a Radiohead cover, surf rock vibes, synth soundscapes, Cuban bata drumming, Ennio Morricone references and techno beats, all quite comfortably and unapologetically cohabiting with gong kebyar music.

Thanks to Giri Kedaton's twenty-six dedicated and skilled Quebec musicians and composers "Projet Bali" is one thrilling cross-cultural voyage worth taking repeatedly with little fear of culture shock.