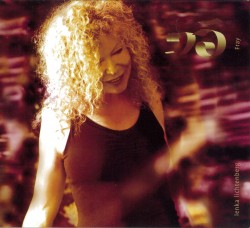 Fray
Lenka Lichtenberg
Independent SR265 (www.lenkalichtenberg.com)
With "Fray" (Free), her fourth solo CD, the Czech born Toronto-based singer-songwriter Lenka Lichtenberg has embraced Toronto's World Music aesthetic. Singing expressive Yiddish and English lyrics with an intimate soprano over well-wrought arrangements that bridge Eastern European, Middle-Eastern, Egyptian, South Asian, North and South American styles, Lenka takes us on a lilting musical journey replete with global echoes.
The songs on "Fray" gently blend musical boundaries, accomplished with the aid of a selection of Toronto's world and jazz musician who's who. Contributions shine from the quanun master George Sawa, Ravi Naimpally on tabla and dumbek, percussionist Alan Hetherington, bassist extraordinaire George Koller, woodwind expert Ernie Tollar and John Gzowski on guitars and oud. Those listeners who expect to hear standard Klezmer instruments such as piano, violin, clarinet and cornet on such an album are also rewarded.
Notwithstanding the delightful blend of word music arrangements here, Lenka Lichtenberg's work is foremost a product of her passion and dedication to international Yiddish culture and to the development of what is sometimes called New Jewish Music. Her practice of cantorial singing within the Jewish liturgy "fills me with light and total happiness" she has said. It clearly illuminates "Fray" with a luminous energy, making the cumulative experience of listening to this album a joy.
[Editor's note: Although for environmental reasons there is no program booklet included with the CD Ms Lichtenberg assures us all lyrics and translations will be available on her website lenkalichtenberg.com.]
Concert Note: Lenka Lichtenberg and special guests including Maryem Tollar will launch "Fray" at the Ashkenaz Festival on September 4 at 6:00 at the Lakeside Terrace, Harbourfront.