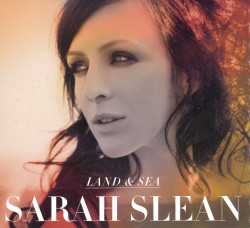 Land and Sea
Sarah Slean
Pheromone Recordings PHER CD 1019
The contrast in styles between the two discs that comprise Sarah Slean's "Land and Sea" is remarkable. Although why the monikers "Land" and "Sea" were chosen is not readily apparent, nothing much is readily apparent on this recording. And I mean that in a good way – a lot of Slean's songwriting needs to be sat with before its beauty and meaning can be gleaned. The music on the two discs has basically been divided into hard-scrabble, guitar-prominent pop/rock on "Land," while "Sea" is all swelling strings (arranged by Slean and Jonathan Goldsmith) and rolling melodies.
I confess I preferred "Sea," largely because Slean's Kate Bush-esque soprano is softened on the more languorous tempos. But there is still a lot of drama and gutsiness to "Sea," especially on Napoleon and Attention Archers. "Land" features the same intelligent, worldly lyrics as "Sea," while Joel Plaskett's production choices draw out the fun side of Slean's work. So the advice to get rid of baggage in Set it Free comes off as cute and non-preachy, and the gospel touches on Amen are subtle and nuanced. Slean is touring extensively throughout Southern Ontario and Canada in November. Check www.sarahslean.com.