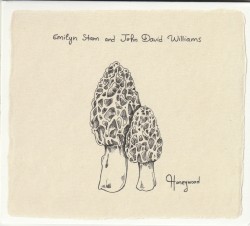 Honeywood
Emilyn Stam and John David Williams
Independent (emilynandjohn.com)
This toe-tapping, instrumental/folk 15-track release showcases the superb Ontario-based duo Emilyn Stam (five-string fiddle, piano accordion) and her husband John David Williams (clarinet, diatonic accordion) in both their original and their arranged traditional "balfolk" style tunes, a Western European Dutch, German and French style of folk dances such as waltzes, schottisches, rondeaux and mazurkas.
Great entertaining diverse musical feels throughout. Their tune J & C Mazurka opens with a reflective lead clarinet against fiddle plucks leading to a tight quiet duet. Their cover of the traditional Brittany tune Laridés features upbeat conversational fiddle/clarinet interludes, and clarinet octave shifts. Williams plays diatonic accordion with Stam's fiddle in the lyrical, sensitive, tightly phrased cover of the traditional Dutch Marche de Roux/La Baigneuse (Marche/Waltz).
Five special guests add new colour to select tracks including upright bassist Alan Mackie's deep low pitches in After the Snow/Autumn in the Valley (Schottische); and Nathan Smith's great fiddling as Stam picks up the piano accordion to play backdrop grooves and doubling driving clarinet lines in Red Bay/The Stone Whale/Stukjes (Jig Chapelloise).
Stam and Williams play with joy, technique and superb musicianship. Honeywood is the Ontario town where Stam and Williams were married in 2017, and also where their first two Big Branch Festivals for balfolk were held. No festival this year due to the pandemic, but there is so much great music here to keep you dancing at home, and hopefully out and about soon!