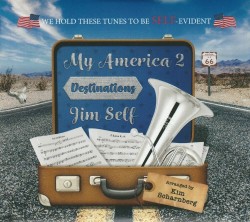 My America 2: Destinations
Jim Self; Various Artists
Basset Hound Music (bassethoundmusic.com)
Unless you've been living in a cave with no access to media for the past 40 years, you have heard the tuba playing of Jim Self. A legendary fixture in Hollywood recording studios, he has performed on countless sessions for film and television and is probably best known for his performance as the "Voice of the Mothership" from Spielberg's Close Encounters of the Third Kind. And all the while, Self has maintained an impressive "live" career in many groups, including the Los Angeles Opera, the Hollywood Bowl Symphony, as a jazz musician and a celebrated tuba soloist.
His latest solo release, My America 2: Destinations (a sequel to My America released 20 years ago) is a jazzy romp through places in the USA that have been important to him throughout his long career. (As the cover states: "We hold these tunes to be SELF-evident." Cute.) It goes without saying that Self's solo tuba playing is amazing and his backup band made up of top LA studio musicians is as tight as one would expect, but what makes this album memorable are the arrangements by his longtime friend, Kim Scharnberg. His eclectic, inventive writing, his creative scoring (and, of course, Self's stellar tuba playing) will have me returning to this disc time and time again.