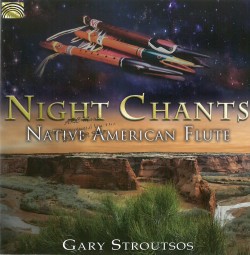 Night Chants – Native American Flute
Gary Stroutsos
ARC Music EUCD2777 (arcmusic.co.uk)
A 35-year, 30-album career makes Seattle-based flute player Gary Stroutsos a veteran of the ethnic flute scene. He's been heard in concerts, on albums, on TV and film soundtracks. While he considers jazz and new age music pioneer flutist Paul Horn (1930-2014) one of his mentors, Stroutsos has made his own mark exploring the music of Native American flutes. His passion for the stewardship of diverse cultures and the natural environment can be heard throughout the 16 tracks of Night Chants. All the music was composed and performed by Stroutsos on various Native American flutes with technical and musical assuredness and cultural sensitivity.
Stroutsos performs on a wide range of flutes here. They include Dakota 5-hole cedar and 6-hole cedar elk flutes, a Hopi rim flute, a Navajo 6-hole cedar flute, as well as river cane wind whistles and clay aerophones. The various timbral and tonal qualities evoked by each flute are vividly captured in the recording, enriching the overall contemplative mood. In addition, the introduction of occasional percussion and sounds of nature – such as bird song, night frog choruses and wind – pair beautifully with Stroutsos' unhackneyed and unhurried flute melodies. Together they share a contemplative space that invites listeners into a particular and peaceful sense of place.
I began listening to Night Chants wondering if I would last an entire album of solo cedar flute. Given the rich musical-cultural journey Stroutsos takes us on, I'd gladly embark again soon.