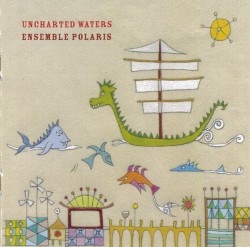 Uncharted Waters
Ensemble Polaris
Pipistrelle Music PIP1212
With their third and latest release, Uncharted Waters, Toronto-based, multi-cultural, multi-instrumental, quantum world music group Ensemble Polaris continues to delight on all levels — conceptually, musically and creatively. Co-produced by Patrick Jordan and the ensemble, the CD continues the group's mandate of exploring the "idea of the North" and includes 18 intriguing and visceral tracks that embrace the folk music of Scandinavia, the Balkans, France, Italy and even Venezuela. Utilizing a mind-numbing array of ethnocentric instruments (including Swedish pipes, bouzouki, recorders and accordions) as well as the rich, sumptuous voice of Katherine Hill, the ensemble achieves a musical cohesion and level of communication and symmetry that might not seem possible on paper, given the diversity of the elements involved.
One of the strongest tracks is guitarist Marco Cera's Ninin. This stirring violin feature is dedicated to his Italian great uncle — an avid violinist. Also of note is a traditional Orkney Islands air, re-worked as Get Him, and sung stunningly by Hill in her soulful, pitch-pure alto. The rhythmic Dry Toes Waltz is an infectious (dry?) toe-tapper, re-imagined by Jew's harpist Ben Grossman, and the haunting Norwegian Lullaby Jeg Legges I Min Vugge Nu is a precisely set gem, presented simply and beautifully as a moving duet between Hill and Alison Melville's recorder. Also noteworthy are the sensual El Domador De Tarenque (a fusion of an Argentinean Tango and an Italian Tarantella) and Steklat Fran Sarna — a traditional Swedish wedding banquet song, rendered masterfully on Swedish pipes by Kirk Elliott.