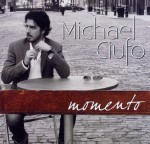 Momento
Michael Ciufo
Acronym Records RWCD0001 (www.michaelciufo.com)
With the release of Momento, there can be no doubt that classical/contemporary vocalist Michael Ciufo has created a stirring and memorable debut recording. His sumptuous, baritone voice is all at once controlled, crystalline and striking, and his handsome presentation is absolutely au courant. Ciufo moves seamlessly between flawless vocals in Italian, English, French and Spanish – letting loose the poetry of each evocative phrase.
Ciufo and producer Chris Bilton have assembled a literal who's who of the Canadian music industry to perform on this impressive CD, including conductor Glenn Morley, special guest Hawksley Workman on electric guitar (enjoy his beautiful work on Oh, You Delicate Heart), George Koller on bass, Rob Piltch on guitar, Davide di Renzo on percussion, Lenny Solomon on violin, Wendy Solomon on cello, Erica Goodman on harp, Chris Bilton on piano and synthesizer programming and a host of other fine musicians.
Ciufo is expert at telling the story – creating and capturing musical and/or cinematic moments. Of particular note are the melancholy Caruso, the deeply passionate Chitarra Romana, the simply gorgeous La Chanson Des Vieux Amants and the quintessentially Italian Musica Proibita. The final track, Oh, You Delicate Heart, is a country-flavoured pop song, beautifully rendered and illustrative of this skilled vocalist's ability to impressively adapt to a wide variety of stylistic motifs.
A keen romantic sensibility, deadly intonation, excellent taste, high musicality and a deeply communicative approach insure that Ciufo is well on his way to international recognition – and every bit as worthy of said recognition as other internationally successful classical/pop/contemporary vocal artists (David Foster-produced and otherwise).