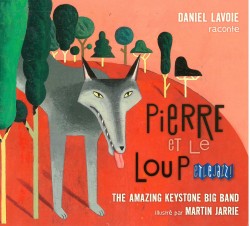 Pierre et le Loup… et le jazz
Daniel Lavoie; Amazing Keystone Big Band
Chant du Monde CME 274 2255
In a French version by Renaud de Jouvenel, arranged for orchestra by Bastien Ballaz, Jon Boutellier and Frédéric Nardin, this marvellous rendition stays loyal to Sergei Prokofiev's wonderful musical story Peter and the Wolf while introducing listeners to big band music and the history of jazz.
The instruments you hear are different than what you're used to – the oboe, clarinet and bassoon are replaced by saxophones for example. From Harlem to New Orleans, piano stride, free jazz, blues, bebop and jazz rock – it's all here.
Popular Canadian singer Daniel Lavoie gives a crisp narration that quickly absorbs listeners even if they have a very limited knowledge of French. Pierre/Peter, oiseau/bird, canard/duck, chat/cat, loup/wolf, Grand-père/Grandpa, chasseurs/hunters – you're all set. Read along in the beautiful booklet illustrated by Martin Jarrie for added comprehension.
When the story is done you'll hear over 20 minutes of further variations on the theme. Soulful Cat, Elegy for a Duck, Grandpa's Shuffle, to name but a few. The Amazing Keystone Big Band really is amazing.
The clarity of this recording makes it a delight to hear. This creative arrangement of a familiar tale is a welcome addition to the jazz family.