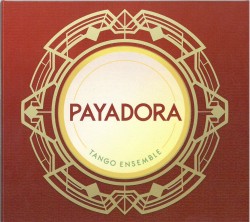 Payadora
Payadora Tango Ensemble
Independent (payadora.com)
The popularity of tango music is no surprise. The diverse compositional strengths, wide-ranging musical sentiments and driving rhythms offer something for all listeners, regardless of their musical tastes. Toronto-based Payadora Tango Ensemble showcase their enormous respect for the style and their phenomenal performing talents in a jam-packed 12 tango release.
Payadora's musicians are each superstars in their own right. Pianist Tom King shines in his flourishes and gutsy glissandos. Violinist Rebekah Wolkstein plays sultry long tones and melodies with equal dynamism. Double bassist Joseph Phillips performs with a rich tone while holding the group together in a tight sense of pulse. And accordionist Branko Džinović flies over the keyboard with rapid colourful phrases and chord punches executed perfected by the master of bellows control. Together they each remain as soloists yet with superb individual listening skills blend tightly as an ensemble. Superb production qualities add to this recording's live sound.
A welcome diverse collection of tango music is represented here, each performed with detailed musical nuances. Highlights include the traditional El Choclo in an uplifting rollicking rendition with jazzy undertones. The two Astor Piazzolla compositions are performed with his musical intentions in the forefront, complete with a dramatic finale in Retrato de Milton. Julian Plaza's Payadora is the perfect showcase with its swelling dynamic shifts, a mournful accordion and violin opening section, and a joyous, toe-tapping, dance-tango section. Enjoy this timeless release!