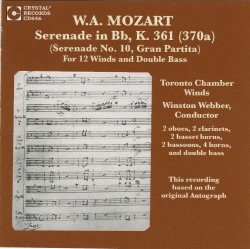 Mozart – Serenade in B-Flat K361
Toronto Chamber Winds; Winston Webber
Crystal Records CD646 (crystalrecords.com)
In his novel Steppenwolf, Herman Hesse depicted Wolfgang Mozart as a smiling Buddha-like immortal. Peter Shaffer, in his play Amadeus, depicts him as human, a vulgar young goofball with uncanny abilities, who had a sense of his music's importance beyond that assigned by his patrons. In the play, upon hearing the slow movement of the Serenade No.10 in B-flat Major K361"Gran Partita," the character Antonio Salieri describes with awe the beautiful simplicity of its construction; he believes he is hearing the voice of God. His disillusion with the human form supplying that voice provides the drama for the entire play.
The theme of immortality rises before me as I listen to this release: these are all voices from the past, a recording made in Massey Hall in 1982, featuring some of the finest Toronto wind players from the time. Many of them were my heroes as I grew into the profession, and some remain active today. It is also an artifact of the time when the elite musical world was a men's club.
The performance is very fine, and if it tends more toward a representation of Hesse's Mozart than Shaffer's, it does so with warmth and style, and with a commitment to proper performance practice. This feature makes the CD well worth owning: the research into proper articulation and ornamentation was carried out by Daniel Leeson, one of the performers and a Mozart scholar. The results are quite pleasant, and instructive as well. It's good to hear the freedom from the page that James Campbell's ornaments demonstrate. The virtuosic Finale: Rondo Allegro molto is packed with flurries of 16th notes articulated at blinding speed.
Among the voices singing out from the recent past, I am most affected by that of Harry Sargous, at one time the principal oboe of the Toronto Symphony. If the account of the piece here has a flaw it would be that it is careful, rather than joyous. Sargous, however, seems to call out to his colleagues with his tone, and beseech them to revel in both the sacred and profane aspects of the music of this immortal fool.