In the last century, many superb conductors, in North America at least, did not achieve the fame that was accorded to the matinee-idol maestros under contract to and promoted by the major record labels.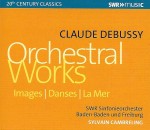 Over the decades, many of these first-rate musicians, conductors and soloists alike, were engaged by the SDR (Southern German Broadcasting of Stuttgart) and SWF (South West Radio, Baden-Baden) to appear with their incomparable orchestras. In 1998 the two merged as the SWR. Some recent SWR releases in a sub-section, "20th Century Classics," include Debussy Orchestral Works (SWR 19508) under the baton of the French conductor Sylvain Cambreling. The three Images: Gigues, Iberia and Rondes de printemps are conducted with enthusiasm, as are the two Danses: Danse sacrée and Danse profane, closing with a very credible La Mer.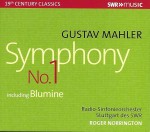 Roger Norrington also has several surprisingly impressive versions of some familiar favourites for SWR. His recent releases in "19th Century Classics" include two Mahler symphonies, the First and the Fifth. One might wonder why they selected Norrington, well known in Baroque and early music interpretations, for that repertoire. Listening, it becomes clear that he was the right man for the job. The First Symphony includes the Blumine movement making this a five-movement work (SWR 19510). There is a palpable sense of discovery throughout, leading to the closing pages that are keenly driven to a positive resolution. The sound is thrillingly open and clear with no instrument obscured. Norrington is also responsible for desirable performances of the Dvořák Seventh and Eighth Symphonies (SWR 19511). Three more Norrington performances in "20th Century Classics" are Elgar's First Symphony with Wagner's Meistersinger Prelude (SWR 19520), Holst's The Planets with Elgar's Serenade for Strings (SWR 19507) and Elgar's Enigma Variations, In the South and the Introduction and Allegro (SWR 19509).
Looking back, previous SWR releases that may have gone unnoticed include these favourites: The Mahler Sixth Symphony under Kirill Kondrashin from 1981 (SWR 19416); a 3-CD set of the legendary pianist Wilhelm Backhaus recorded in 1953, 1959 and 1962 playing Beethoven's Third and Fifth Concertos and the Waldstein and Hammerklavier Sonatas; the Brahms Second Concerto and some short encores (SWR 19057, 3CDs); and violinist Ida Haendel in captivating performances of two concertos, the Tchaikovsky (1960) and the Dvořák (1965), conducted by Hans Müller-Kray (SWR Hänssler 94.205).
It is a truism that a composer does not automatically make a conductor, even of their own works, but there are, of course, exceptions. Paul Hindemith and Benjamin Britten have both conducted notable performances for the SWR: Britten conducts the Suite from Gloriana, the Sinfonia da Requiem, Variations on an Elizabethanian Theme and Chaconne from Purcell's King Arthur (SWR Hänssler 94.213); and, from June 24, 1968, the prolific conductor Hindemith directs the Bruckner Seventh Symphony (SWR 19417) replete with composerly insights.
The most popular and successful film biography of the 1940s was the 1945 biopic, A Song to Remember, a portrait of Frédéric Chopin, with José Iturbi as the pianist on the soundtrack. So convincing was his "playing" that for the longest time, star Cornel Wilde received earnest invitations from various groups to engage him for a recital. Iturbi's recordings on RCA/HMV became bestsellers, particularly his Chopin. Similarly, Song Without End, the story of Franz Liszt, is a 1960 movie in which Jorge Bolet (1914-1990) was the pianist for Dirk Bogarde's Liszt, but in Bolet's case purists condemned him for his ultra-Romantic playing in the film. All was forgiven after a triumphant Carnegie Hall recital in 1974, after which music lovers sought out his recordings on various labels, and he became a virtuoso among virtuosi. The Havana-born Bolet studied at the Curtis Institute in Philadelphia with Leopold Godowsky, Josef Hofmann and Moritz Rosenthal. In 1937 he won the Naumburg Competition and made his debut. In 1942 he joined the army and was sent to Japan as part of the Army of Occupation. He conducted the first performance in Japan of The Mikado!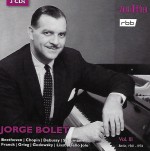 Amazon has 274 Jorge Bolet discs listed, the latest release being The RIAS Recordings Vol.3: Berlin 1961-1974 (Audite 21.459 3CDs). The repertoire is slightly esoteric, from Beethoven to Norman Dello Joio. In performance order, Chopin's 12 Etudes Op.25 is followed by Beethoven's Piano Concerto No.3 with the Berlin Radio Symphony conducted by Moshe Atzmon (1974). CD2 opens with Schumann's Piano Sonata No.3 Op.14 (1964), followed by 12 excerpts from Grieg's Ballade in G Minor, Op.24; continuing with César Franck's Prelude, Aria et Final, FWV 23 and concluding with Chopin's Fantasie-Impromptu. CD3 opens with four polonaises of Chopin; The Grande Polonaise in E flat major, Op.22 and three numbered ones, No.3 Op.40/1, No.4 Op. 40/2 and the very famous No.6 in A-flat Major Op.53, followed by Liszt's arrangement of Schumann's Frühlingsnacht from Liederkreis, Op.39 No.12, and three pieces from Debussy's Images II plus Masques. To most listeners the Piano Sonata No.2 by Dello Joio, "whose rugged – partly modernist, partly expressionist, soundscape Bolet mastered with aplomb" will be something new. The collection ends with an arrangement of themes from Die Fledermaus, the second part of Symphonic Metamorphosis on Themes by Johann Strauss II, written by Bolet's teacher, Godowsky.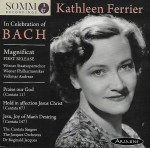 Even now, over 65 years after her death, the British contralto Kathleen Ferrier remains a voice of interest to music lovers around the world thanks to her legacy of fine recordings. Ferrier was born on April 22, 1912 in Lancashire, living until October 8, 1953. She was much admired for her Bach, Brahms, Mahler and Elgar as well as for folk song interpretations. And she remains so. She was catapulted to fame when the 1952 Decca recording of Das Lied von der Erde, conducted by Bruno Walter with Julius Patzak and the Vienna Philharmonic, hit the world. That recording has never been out of print. SOMM Recordings has issued a first release of the Bach Magnificat, BWV 243.2 in a live performance from June 10, 1950 in the Musikverein in Vienna (Kathleen Ferrier: In Celebration of Bach, ARIADNE 5004). Ferrier is joined by Irmgard Seefried, Otto Edelmann and five other distinguished soloists with the Chorus of the Vienna State Opera and the Vienna Philharmonic Orchestra conducted by Volkmar Andreae. This is an exuberant performance, clearly and dynamically recorded. A treasure. Three cantatas that were recorded in London in 1949 with the Jacques Orchestra and Reginald Jacques fill out this most welcome collection. Sung in English are Cantata No.11, Praise our God; Cantata No. 67, Hold in affection Jesus Christ and Cantata No.147 Jesu, Joy of Man's Desiring. An added bonus: the informative booklet contains a chronology of Ferrier's life.