Naxos was launched in 1987, when CDs were just four years new and the major labels were busy digitally recording new performances and remastering acclaimed recordings from their archives. New recordings from the major companies retailed for $20+ in Canada. Naxos introduced CDs to retail for about the price of an LP, for which we at The Classical Record Shop were agreeable to allot some space. The Naxos representative insisted on a display dedicated to their product alone, apart from the composer or artist section. Soon customers began asking for the Naxos rack and it was not uncommon to see persons make a beeline for the Naxos display. "What's new on Naxos?" became an often-heard inquiry. Naxos continues to grow, utilizing today's (and tomorrow's) technology to best deliver their performances everywhere. A few years ago, I interviewed the man behind Naxos, Klaus Heymann. When speaking of future developments the one word that did not appear to be in his vocabulary was "if." Nothing he spoke of was ever if, but when. In the ensuing years many of his prognostications have already come to pass, not the least of which is the revolution in dissemination of the printed word and digital platforms for music.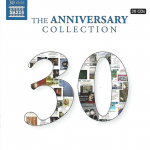 To celebrate their 30 years of producing a continuous stream of standard and non-standard repertoire in addition to works by lesser-known composers, always in state of the art sound, Naxos has assembled The Anniversary Collection (8.503293). Appropriately containing 30 CDs selected from the 9,000 titles in the company's archives, The Anniversary Collection offers a selection of performances by prominent artists and others who may not spring to mind immediately but who are informed masters of their repertoire.
Good news for collectors who already own the usual basic repertoire – you will discover many new delights without unnecessary duplications. Here are a few in no particular order: Chopin and Liszt piano concertos; Dvořák and Elgar cello concertos; Tchaikovsky Manfred Symphony and Violin Concerto; three Spanish guitar concertos; Glière Symphony No.3; Grieg Peer Gynt Suites; Handel Water and Fireworks Music; Daugherty Metropolis Symphony; Barber of Seville highlights… and many more well-chosen discs including Vivaldi's Four Seasons, Naxos's bestselling recording in the catalogue. It dates from 1987 with Japanese violinist Takako Nishizaki and Capella Istropolitana from Bratislava. There is a complete table of contents at arkivmusic.com.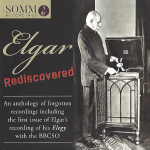 Following the success of Elgar Remastered, the collection of forgotten and priceless recordings conducted by Elgar derived from test pressings sent to Elgar by HMV and never released (SOMMCD261-4, 4CDs), SOMM has issued a follow up, Elgar Rediscovered (SOMMCD 0167), an anthology of forgotten recordings. As before, the transfers and restorations were performed by Lani Spahr. The CD opens with the Elegy for String Orchestra, Op.58 recorded by the BBC Symphony in Abbey Road Studio 1 on April 11, 1933. Test pressings were sent to Elgar, who wrote back that "The records have come and are very good." However, HMV did not issue them as Elgar had elsewhere expressed the wish to re-record. A new recording with the London Philharmonic Orchestra was issued by HMV and the premiere version remained unissued until now. A very good case is made for preferring this earlier performance, which is a variant of the published one. This original has a real verve, an ebb and flow and vitality missing in the LPO version. The Coronation March, Op.65, commissioned for the coronation of George V, is played by Landon Ronald conducting the LPO. It is followed, appropriately, by The Coronation March and Hymn composed by Elgar's contemporary Edward German, who was also commissioned for the occasion. Grandly celebratory, they were both recorded on March 7, 1935 in London's Kingsway Hall. The premiere recording of the Violin Concerto, Op.61 was made in April 1916 in a 15-minute truncated version by Albert Sammons, with orchestra conducted by Henry Wood. Thanks to the quality of the original and the technology employed, the violin sound is clear and present with the orchestra not far behind. Also included are some items that must have been popular 78s at the time including Kyrie from Gerontius; Fringes of the Fleet; The Pipes of Pan; Where Corals Lie from Sea Pictures; and others, performed by Alfredo Campoli, Fred Austin, The Black Diamonds Band, John Barbirolli, et al. A genuine curiosity is a private recording of May Grafton playing the Sonatina that her uncle Edward wrote for her in 1889 to encourage the eight-year-old to practise. In this 1960 recording she plays from her 1889 original score, which differs from the published version. The final recording on this unusual collection is Salut d'Amour, Op.12 played to perfection, without the layers of emotion now fashionable, by Albert Sammons with Gerald Moore, recorded in 1940.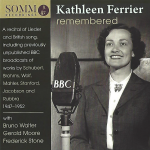 Another offering from SOMM, Kathleen Ferrier Remembered (SOMMCD 264) contains a selection of lieder by Schubert and Brahms, Wolf and Mahler together with songs by Stanford, Rubbra, Jacobson and Parry. The 26 tracks were recorded for broadcast by the BBC between November 1947 and September 1952. The accompanists are Frederick Stone, Gerald Moore and Bruno Walter. These are moments to be treasured and some are heartbreaking, notably Urlicht from Des Knaben Wunderhorn accompanied by Frederick Stone. Revelatory are four songs by Schubert and Brahms from September 1951 in which she is accompanied by Bruno Walter, who held her in the highest regard. Following her death on October 5, 1953, Walter wrote: "The greatest thing in music in my life has been to have known Kathleen Ferrier and Gustav Mahler—in that order." Her voice sits perfectly on the six British songs that are among the 19 previously unpublished recordings.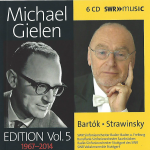 Volume 5 of the Michael Gielen Edition is devoted to the music of Bartók and Stravinsky. Although his name has appeared on other labels over the years, Gielen's most consistent recordings have come from the SWR (Südwestrundfunk), who recorded the orchestras of Baden-Baden and Freiburg, Saarbrucken and Stuttgart (SWR19023CD, 6CDs). Collectors who have heard the performances in the four earlier volumes and elsewhere will need no endorsement for Volume 5. Once again we are treated to exemplary and individual readings directed by a figure who had earlier been avoided by the record companies for his out-of-the-mainstream repertoire and individual interpretations, deeming them non-commercial. Thanks to SWR, who recorded his performances over the years with their orchestras, we can enjoy and appreciate those performances... Some of the tracks on volume five, as before, have been available on a few labels but not with the meticulous attention paid to the smallest details in order to extract the most out of the originals. Technically, the recordings are very convincing, the instruments are heard in place and the illusion is of hearing an orchestra rather than the recording of one.
The Bartók scores are: Suite from The Wooden Prince; Concerto for Orchestra; Four Orchestral Pieces, Op.12; Violin Concerto No.1; Music for Strings, Percussion and Celesta; Dance Suite Sz.77; Piano Concerto No.2 and The Miraculous Mandarin. The Stravinsky entries are Pulcinella, Apollon musagète, Scherzo à la russe, Le roi des étoiles, Canticum Sacrum, Agon, Requiem Canticles, Aldous Huxley in Memoriam, Symphony in Three Movements, Symphony in C and Symphony of Psalms.