British pianist Solomon Cutner, who had a natural talent for the piano, was born in London on August 9, 1902. He was the seventh child of musical parents of German-Jewish and Polish-Jewish extraction and began to play the family piano aged five. He made his debut, of sorts, aged seven, in his father's tailor shop playing his own arrangement of Tchaikovsky's 1812 Overture. He became a pupil of Mathilde Verne, herself a former pupil of no less than Clara Schumann. He learned well. As did she. She tied him to a five-year contract with her company and toured him as "Solomon, the Child Prodigy." Solomon made his real debut in Queen's Hall in 1911. In 1914, the 12-year-old played Beethoven's Second Piano Concerto at the Proms. Proms founder, Sir Henry Wood insisted that he continue his studies and he made it to Paris where he studied with Marcel Dupré and others. He appeared in the United States in 1926 and again in 1939. During WWII and after, he played for the Allied troops around the world including Australia and New Zealand.
Solomon was a mighty talent whose brilliant recordings produced by English Columbia and His Master's Voice, EMI were treasured by discerning music lovers everywhere who appreciated his artistry and technique. He first recorded in 1929. He was in the midst of recording the complete cycle of Beethoven sonatas for EMI Records when he suffered a devastating stroke in 1956, which paralyzed his right arm. He never recorded or performed in public again, but lived on for another 32 years, dying in 1988 in London.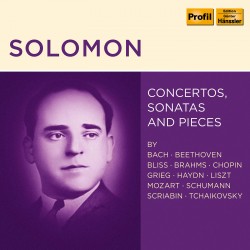 The recordings that Profil selected for the collection Solomon – Concertos, Sonatas and Pieces (Profil PH20032 naxosdirect.com/search/881488200324) cover repertoire from J.S. Bach to Sir Arthur Bliss and include concertos, duos and solo works all in the best HMV/Columbia sound. There is not a single performance that is anything less than individual and many that surprise. On CD8 is the most welcome first recording of the unique and devilishly difficult 1938 piano concerto by Bliss, conducted by Sir Adrian Boult. The Bliss concerto was written specifically for the New York World's Fair in 1939 and the familiar gestures of the grand Romantic manner were calculated to please audiences of the day. Listening to Solomon play the poetic Grieg concerto that follows, conducted by Herbert Menges, the listener can only but marvel at how, in the first movement, the keys could be depressed so gently and still be making the notes. That disc concludes with two pieces by Brahms, the Intermezzo in B-flat Minor, Op.117 No.2 and the Rhapsody in G Minor, Op.79 No.2 in definitive performances. As may be expected by now, this listener is attuned to expect Solomon's articulation and clarity, and so, Schumann's Carnaval is unusually fresh. On CD5, The Beethoven "Archduke" Trio with Henry Holst (violin) and Anthony Pini (cello) follows the Brahms Piano Sonata No.3 Op.5. CD6 contains three of Beethoven's most loved piano sonatas, Pathétique, Moonlight and Appassionata. To put the icing on the cake, cellist Gregor Piatigorsky joins Solomon for the Cello Sonata No.5, Op.102 No.2.
What a shock on CD7 when the stentorian Liszt's Hungarian Fantasia for Piano and Orchestra conducted by Walter Susskind lashes out following Scriabin's Concerto in F-sharp Minor and Tchaikovsky's First, both conducted by Isssay Dobrowen.
On these ten discs, there are concertos by Mozart, Beethoven, Brahms, Schumann, Liszt, Tchaikovsky, Scriabin and Bliss of course, in addition to a multitude of piano works by Bach, Mozart, Haydn, Beethoven, Schumann, Brahms and Chopin. The sound throughout this valuable collection is utterly true, particularly the piano solos, a tribute to EMI's people and whoever did the transfers to disc for Profil.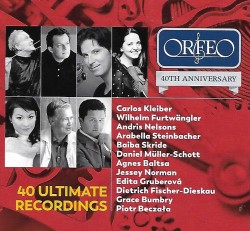 This year the German label Orfeo is celebrating its 40th anniversary of issuing significant recordings of live performances given by various artists that were not made available elsewhere. Devout collectors who look beyond the well-known labels may well own, or know of, some of the treasures in the Orfeo catalogue. Orfeo has chosen a collection featuring 20 Soloists and Conductors and 20 Legendary Voices and issued them all on two CDs as Orfeo 40th Anniversary Edition – 40 Ultimate Recordings (Orfeo ORF-C200032 naxosdirect.com/search/4011790200323). The soloists and conductors disc running just seconds short of 80 minutes contains Wolfgang Sawallisch in the overture to The Magic Flute, Otto Klemperer in Bach's Overture No.3 in D Major; Carlos Kleiber in the Adagio from Beethoven's Fourth Symphony; Wilhelm Furtwängler in the finale of the Haydn Symphony No.88; Rafael Kubelik conducts Rudolf Serkin in the Adagio from Beethoven's Piano Concerto No.2; etc. etc. The generous program continues with performances featuring Gerhard Oppitz, Andris Nelsons; Oleg Maisenberg, Neeme Järvi; Vaclav Neumann and the music goes on… Sir Thomas Beecham would have called this pleasing program not "lollipops" but "bonbons."
The accompanying 20 Legendary Voices belong to 20 males and females singing mostly arias from operas by Rossini, Spohr, Gluck, Mozart, Puccini, Verdi, Wagner, Cilea, Bizet, Richard Strauss, Gounod, Moniuszko and the rest of the usual suspects. The voices belong to Agnes Baltsa, Jessye Norman, Kurt Moll, Julia Varady, Edita Gruberová, Carl Bergonzi, Lucia Popp, Michael Volle and others. Each of these discs is a perfect example of putting together an educated and harmonious, never-a-dull-moment program.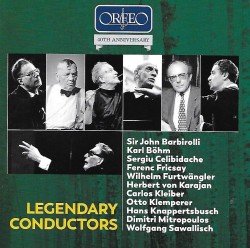 The other offering for this Orfeo anniversary year is the ten-CD Orfeo 40th Anniversary Edition – Legendary Conductors (Orfeo ORF-C200011 naxosdirect.com/search/4011790200118) featuring 11 maestros directing complete performances of 16 masterpieces, recorded live from 1961 through 1991. Rather than choosing a few examples which amounts to deciding what not to mention, here are the entries. Karl Bohm: Schubert Second and Ein Heldenleben. Wolfgang Sawallisch: Bruckner Fifth. Carlos Kleiber: Beethoven Fourth. Dimitri Mitropoulos: Prokofiev Fifth. Hans Knappertsbusch: Beethoven Coriolan Overture and Third Symphony. Otto Klemperer: Brahms Third and Beethoven Seventh . Ferenc Fricsay: Tchaikovsky Sixth. Herbert von Karajan: Beethoven Ninth (VSO, 1955). Sergiu Celibidache: Les Preludes (Liszt) and Brahms First. Sir John Barbirolli: Brahms Second and Vaughan Williams Sixth. Wilhelm Furtwängler: Bruckner Fourth.
These live recordings of the SWS Symphony, the Vienna Philharmonic and the Vienna Symphony Orchestras are full bodied and richly detailed and if there were such an absolute, the performances may be considered definitive.