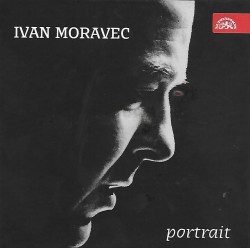 The new 11-CD set, Ivan Moravec Portrait (Supraphon 4290-2 naxosdirect.com/search/099925429027) will introduce, or reintroduce, a Czech pianist who was one of the very finest artists of the last generation. For a good many of the decades of the end of the 20th century into the 21st, Moravec was a familiar name to music lovers around the world, particularly to those who celebrated their Czech heritage. Born in Prague on November 9, 1930 he was influenced by his father who was an amateur pianist and singer. He introduced Ivan to opera and taught him to read the scores which together they read and sang through. In an interview at the Academy of Performing Arts in Prague, where he had been a professor for more than 30 years, we learn that "I basically studied with Irma Grunfeld, the niece of Alfred Grunfeld, a very famous Viennese pianist through the turn of the 19th and 20th centuries – some of his recordings have been preserved. […] In addition I was somewhat influenced by Professor Kurtz who was also teaching in Prague. Kurtz was an absolutely first-rate teacher." In a most interesting interview in PIANO News in April 2002, reprinted in the accompanying notes, An Enthusiasm for a Radiance of Tone, Moravec speaks about the many people who influenced his playing, especially Michelangeli.
The works included in the new discs embrace solo and concerted works by Mozart, Beethoven, Chopin, Schumann, Brahms, Debussy, Franck, Ravel, Janáček, Martinů and Smetana. Of course, I did not commence listening with the first track of the first disc as some listeners might have done if faced with such a wide range of compositions from 11 composers. Instead, I went straight to works by which to evaluate the artist. I have a special affection for the four Ballades of Chopin but have not heard a recorded performance to better express what, I thought, Chopin would have heard in his head. From Cortot, Rubinstein, Richter, et.al, none has come close. There is lots more inspired Chopin here: the complete 24 Preludes, Op.28, the four Scherzi, the Piano Sonata No.2 in B-flat Minor, Op.35, the 17 Mazurkas and many individual works. Moravec's Chopin at last realizes all expectations. His playing is majestic and exultant and wholly satisfying; playing unequalled that I know of. Who would have thought?
Moravec, as may have been expected, is a master of Schumann and Brahms. Equally authoritative performances of Schumann's Kinderszenen and that wonderful little Arabeske in C Major, followed by Brahms: Capriccio in B Minor, the Rhapsody in G Minor and also Three Intermezzi Op.117 and the Intermezzo in A Major, Op.118/2. The Brahms Piano Concerto No.1 is preceded by the Schumann Piano Concerto in A Minor, both conducted by Eduardo Mata with the Dallas Symphony in 1993. There are many other performances: Beethoven and Mozart concertos; some exquisite Debussy: Images Books 1 and 2; Estampes; Children's Corner; and, naturally, Clair de Lune; and Preludes. Also, interesting Ravel, Martinů, Smetana and Janáček.
In the box is a DVD that includes a most enjoyable and informative video biography of Moravec, including musical reminiscences by conductors and fellow musicians. Also, complete performances of works by Beethoven, the Appassionata; Prokofiev, the First Piano Concerto (Ancerl); Mozart Concerto No.25 (Vlach); and the Ravel G Major (Neumann). In Czech, with subtitles in many languages. A first-class package not to be overlooked.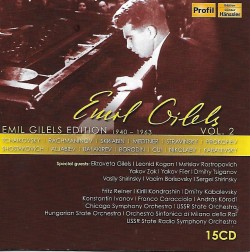 Volume Two of Profil's Emil Gilels Edition is a 15-CD selection of memorable recordings (weren't they all!) derived from various sources (PH17066 naxosdirect.com/search/881488170665). All the composers are Russian from Tchaikovsky forward. There are performances of solo works, duos, trios, chamber music and concertos; too many for individual comment. The first disc contains two performances of the Tchaikovsky First: The first entry is a monaural recording of 1951 from Moscow conducted by Konstantin Ivanov with the USSR Radio Symphony Orchestra, then one in stereo from October 10, 1955 with the Chicago Symphony and Fritz Reiner. Happily, the listener can listen to both versions and may have a preference for one or the other. Gilels is the same in both. Ivanov or Reiner? Mono vs. stereo? I enjoyed the weight and majesty of the Russians. Tchaikovsky's Second also merits two versions, a Russian performance conducted by Kondrashin and a Hungarian conducted by András Kórodi. Rachmaninoff's Third gets two outings with Kondrashin, from January and March 1949, but the Fourth gets only two movements, the second and third. There are concertos, chamber works, sonatas and duos, and arrangements by these familiar and unfamiliar composers: Prokofiev, Stravinsky, Aleksander Alyabiev, Mily Balakirev, Borodin, Cesar Cui, Scriabin, Medtner, Glazunov, Borodin, Alexander Siloti, Moisey Wainberg, Kabalevsky, Khachaturian, Arno Babajanian and finally, Andrey Babayev. Assisting artists are Elizaveta Gilels, Leonid Kogan, Mstislav Rostropovich, Yakov Zak, Yakov Flier, Dmitry Tsiganov, Vasily Shirinsky, Vadim Borisovsky, Sergei Shirinsky. The conductors are Fritz Reiner, Kirill Kondrashin, Dmitry Kabalevsky, Konstantin Ivanov, Franco Caracciolo and Kórodi. Never a dull moment in this superbly recorded collection.
To celebrate their establishment 40 years ago in Munich, Orfeo has issued several attractive compilations, Legendary Conductors, 40 Ultimate Recordings and now the collection Orfeo 40th Anniversary Edition – Legendary Pianists (C200071 naxosdirect.com/search/orfeo+c200071). This edition should be quite intriguing to collectors who surely will find a set of names quite different from what they might have chosen. It does not claim to be definitive; a collection, not the collection. There are ten CDs in the box featuring nine artists recorded live or recorded for broadcast, giving a sense of hearing an actual performance that contributes a heightened sense of you-are-there. It took a day to audition the set, which turned out to be not at all tedious, as the repertoire is pleasing and pianists clearly dedicated. Here are the pianists: Géza Anda, Bruno Leonardo Gelber, Friedrich Gulda, Wilhelm Kempff, Oleg Maisenberg, Konstantin Lifschitz, Carl Seemann, Gerhard Oppitz and Rudolf Serkin. Repertoire consists of mainly concertos from Bach to Brahms, via Mozart, Beethoven, Schubert and Schumann. Also, a handful of variations, etc. This is a most attractive collection of pure pleasure.