"No other composer has owed so much to Mother Nature and his own father as Wolfgang Amadeus Mozart. He came into the world endowed with a native genius that probably has not had its equal in the history of music and it was his good fortune to have a father who was able to develop and guide the natural gift."
– Pitts Sanborn, critic and essayist, 1938.
Born in 1756, Wolfgang was not Leopold and Maria Anna Mozart's only surviving child; his sister Nannerl was born in 1751. Little Wolfgang, still in his cradle heard his sister's music lessons given by their father and at the age of three he was able to pick out chords on the clavier and repeat passages he had learned by ear. In 1760, he too began clavier lessons from his father and by the next year, aged five, was composing pieces for that instrument that were taken down by Leopold and in 1763 he was already published. The Mozarts – father, daughter and son – began a concert tour including, in 1764, a reception in Versailles by Louis XV, a trip to London and an introduction to J.C. Bach. During that busy period, he composed clavier pieces, in addition to sonatas for violin and piano and cello sonatas, while working on his first two symphonies. Not your typical teenager. By the time he was 21 years old he had composed four piano concertos, five symphonies (there were six but No.2 K17 proved to be by Leopold), choral works, ten violin sonatas, piano pieces and various shorter works taking us to K97.
The very young Mozart was a prodigy, a child prodigy who, as the years passed, became evermore prodigious. In his 35 years he composed 41 completed symphonies, 27 piano concertos, four horn concertos, piano sonatas, violin concertos, works for the theatre including 22 operas, 33 violin sonatas, 23 string quartets, eight piano trios, 14 sonatas for organ and strings, seven string quintets, piano quintets and the list goes on…and on. Terminal illness prevented him from finishing the Requiem Mass K626 that was completed by Franz Xavier Süssmayr after Mozart's death on December 5, 1791.
Although his influences were Germanic, Mozart was not a composer of national music. His music is arguably the most universal of all and least locally rooted. Broadly speaking, it more reflects the Italian influence in Austria in the 17th and 18th centuries: elegance, refinement and polish.
Review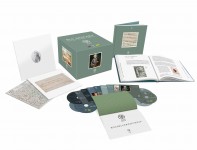 Paul Moseley is Director of Mozart 225, in other words the man at Universal Music responsible for bringing together all the elements for Mozart 225: W.A. Mozart – The New Complete Edition (Universal Music/Stiftung Mozarteum Salzburg, 200 CDs, Books, literature, etc.).
In an interview with Barry Holden, VP of Classical Catalogue, Moseley responded to the question, why now? "In December, this year will be the 225th anniversary of Mozart's death and it occurred to us that this was a chance in our lifetime to celebrate our relationship with one of the greatest creative minds that ever lived and look again at our recorded interpretation on disc and scholarship with this incredible genius.
The edition is, we think, the biggest CD box set ever put together. It would take you ten days to get through all the music on the set, I think there are 15,000 minutes which is something like 240 hours. 200 CDs, 4000 tracks, over 600 solo performers and ensembles, 60 orchestras. From a label point of view, to be able to include Decca which obviously is Decca and the old Philips label, Deutsche Grammophon with its wonderful catalogue of Mozart recordings – also the ASV catalog – so there are perhaps nearly 20 labels represented all together. We've gone one better even than the Philips' Mozart edition which came out 25 years ago for the 200th anniversary by not only finding new music that wasn't recorded before but also offering alternative interpretations of music to give the listener the ability to choose between a period instrument performance for example and a modern instrument performance. Just to give them that sense of the breadth of recorded interpretation of some of the great works.
"The first thing you'll see when you open up is two very large hardback books. The first book is a new biography of Mozart by Cliff Eisen. Cliff Eisen is professor at King's College London and I would say, probably the world's preeminent Mozart scholar.
"The second book which Cliff has curated the editorial of, is just on the music contained in the boxes so follows you through each box and each work. Cliff was also the editorial consultant for the entire edition so he's made sure that everything that's written is up to date and scholarly."
Fitting the two hardbound books, the new Köchel catalogue and 200 CDs into a 26 x 26 x 18 cm box is a tight fit. The bottom of the big inner box holds four smaller removable boxes: "Orchestral," "Chamber," "Theatre" and "Sacred/Private/Supplement," each with a booklet with information on each disc in that group. I found it impossible to locate and remove a disc before easily removing the booklet. Also you don't bring a 20-pound (9 kg) box to your chair…you go to it. That's exactly what I have been doing for the past month, appreciating new versions of so many familiar works that restore their newness and originality. Performances of works as over-familiar as Eine kleine Nachtmusik, Piano Concerto No.21 or A Musical Joke (Ein musikalischer Spass K522) inspire close attention.
I cannot imagine that Universal expects this labour of love to hit the charts but those who acquire the invaluable set will be rewarded for a long time come. You may examine the complete edition for yourself at mozart225.com.