In the 1930s and into the 40s, two high profile conductors shared the attention of the record-buying public in the United States: Arturo Toscanini and Leopold Stokowski. Both men and their orchestras, the NBC Symphony in New York and the Philadelphia, were then under contract to RCA Victor, which profited either way. Both men had their disciples and a free-bowing performance by the rapturous Stokowski could not be mistaken for the taut Toscanini. For Stokowski, the printed score was a point of departure. His recordings were in demand around the world, as were Toscanini's. The Disney 1940 avant-garde film Fantasia with Stokowski and the Philadelphia Orchestra recording (most of) the soundtrack widened his reputation and certainly attracted newcomers to the classics.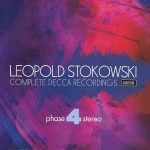 As it had been quite some time since I listened to a Stokowski performance, the arrival of a new compilation was unexpected and welcome. Leopold Stokowski: Complete Decca Recordings (4832504, 23 CDs) contains the recordings made in Europe from 1962 to 1973. Orchestras are The New Symphony Orchestra of London, the London Symphony, the London Philharmonic, the New Philharmonia, the Royal Philharmonic, the Czech Philharmonic, the Hilversum Radio Philharmonic and l'Orchestre de la Suisse Romande. It was said that Bruno Walter could make any orchestra sound like the Vienna Philharmonic and similarly, a performance from anywhere conducted by Stokowski usually feels like a performance conducted by Stokowski. His performances of absolute music, symphonies, concertos, etc. were straightforward with variations of tempi and expression. In program music his interpretations could be and usually were flamboyant and hyperbolic. CD9 in this set contains three perfect examples: Stravinsky's Firebird Suite, Tchaikovsky's Marche Slave and Mussorgsky's Night on Bare Mountain in Stokowski's own mighty orchestration, in over-the-top performances heard in Decca's best Phase 4 sound. Phase 4 technology basically employed more than a score of microphones over the orchestra, enabling the recording engineer to spotlight instruments and re-balance the performance to suit his own taste, presenting an obvious dichotomy. It was the ultimate in multi-miking. The raison d'être for this collection is Stokowski plus the repertoire plus Decca's Phase 4 sound. A partial list is in the set mentioned below but check amazon.co.uk for the complete track listing.
The 23rd disc is Leopold Stokowski A Memoir with voices of Stokowski, John Georgiadis, Hugh Maguire, Gervase de Peyer and other colleagues, plus excerpts of the recordings. An interesting section is Leopold Stokowski Remembers Gustav Mahler. Thomas Martin Recalls Auditioning for Leopold Stokowski has the double bass player recounting his audition for the Houston Symphony when Stokowski was their music director. An unusual and nice way to conclude the collection.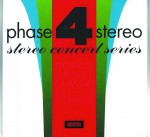 In 2014 Decca issued a 41CD set, Phase 4 Stereo Concert Series (4786769), that contained a broad collection of singular performances of some familiar standard repertoire and more, featuring international artists such as Sean Connery, Ivan Davis, Eileen Farrell, Ruggiero Ricci, Marilyn Horne and Robert Merrill. Conductors include Bernard Herrmann, Stanley Black, Edward Downes, Antal Doráti, Arthur Fiedler, Anatole Fistoulari, Jean Fournet, Henry Lewis, Lorin Maazel, Erich Leinsdorf, Charles Munch, Eric Rogers, Miklós Rózsa and Leopold Stokowski. There are nine Stokowski CDs that also appear in the above collection; Beethoven's Ninth Symphony, Berlioz' Symphonie Fantastique, Pictures at an Exhibition, Scheherazade, Tchaikovsky's Fifth and the 1812 Overture, Glazunov's Violin Concerto with Silvia Marcovici, a collection of Bach transcriptions, excerpts from Wagner's Ring Cycle, Vivaldi's Four Seasons and suites from Swan Lake and Sleeping Beauty ballets.
Well, this collection is certainly a curate's egg, "Good in Parts." Purists will certainly abhor most of it but others may simply revel in it.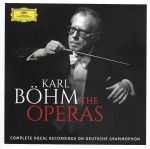 Karl Böhm was one of the very last great conductors in the German tradition that had been omnipresent in the music world. No longer with us are the likes of Clemens Krauss, Erich Kleiber, Wilhelm Furtwangler, Felix Weingartner and Bruno Walter. DG has assembled a collection of his recordings under the title Karl Böhm The Operas with the subtitle Complete Vocal Recordings on Deutsche Grammophon (4798358, 70 CDs boxed with a 144-page 190mm-square book). The enormity of this collection of incomparable music-making is overwhelming and one might wonder what Karl Böhm was all about.
He was born in Graz, Austria on August 28, 1894 and after receiving a degree in law he attended the conservatory there, later enrolling at the conservatory in Vienna. He became an assistant repetiteur at Graz in 1917 and by 1920 he was the senior director of music there. In 1921 he was engaged by Bruno Walter at the Bavarian State Opera in Munich. In 1927 he was appointed chief music director in Darmstadt. A few more appointments later and in 1933 he conducted Tristan und Isolde in Vienna. He became director of the Semper Opera in Dresden succeeding Fritz Busch in 1934, remaining in there until 1942. He conducted the first performances of two Richard Strauss operas, Die schweigsame Frau in 1935 and in 1938 Daphne, of which he is the dedicatee. In 1938 he premiered in the Salzburg Festival with Don Giovanni, becoming a permanent guest conductor there.
After 1948 he conducted Don Giovanni at La Scala and from 1950 to 1953 directed the German season in Buenos Aires. In 1957 he made his debut at the Met in New York with Don Giovanni and became a favorite of Rudolph Bing. At the Met he directed 262 performances, including many premieres. He leaned towards Mozart, Beethoven, Wagner and Verdi, and certainly had a special connection to the music by his close friend, Richard Strauss. Böhm made his debut in Bayreuth in 1962 with Tristan und Isolde and directed performances there until 1970, and from 1965 to 1967 he conducted Der Ring des Nibelungen, Wieland Wagner's last production. Böhm continued conducting and recording and in his last years he was associated with the London Symphony, with which he had an affectionate relationship and which had named him LSO president. He was still recording with them in June 1980 about one year before his death on August 14, 1981 in Salzburg.
Included in this edition are operas by Beethoven, Berg, Mozart, Richard Strauss and Wagner, plus two and a half CDs of Böhm speaking in German about his life, etc.
Soloists in top voice include Martti Talvela, Peter Schreier, Anton Dermota, Dietrich Fischer-Dieskau, Fritz Wunderlich, Evelyn Lear, Gundula Janowitz, Birgit Nilsson, Sherrill Milnes, Hans Hotter, Gwyneth Jones, Christa Ludwig, Hilde Güden… and the list goes on.
Yes, it is an expensive set but the ROI (return on investment) is very high.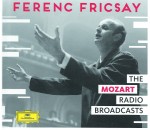 The Berlin of 1946 was a war-ravaged city divided into four sectors according to the nationality of the occupying force. The American, the Russian, the British and the French sectors each had their own restrictions and protocols. The situation was the setting for countless successful novels and films then and since. In the midst of the poverty and homeless refugees, Berliners turned to music and the performing arts. "Every shed and every garage might serve as a little temple of the Muses," ex-POW Dietrich Fischer-Dieskau recalled. "The plentiful supply reflected the demand. Every evening queues formed outside the box offices (where people had to queue in spite of everything)." The American radio station, the RIAS, formed a new symphony orchestra, the RIAS Symphony Orchestra. They gave their first concert on December 12, 1948. On the podium was a young Hungarian conductor, Ferenc Fricsay. In 1956 the orchestra renamed themselves the Berlin Radio Symphony Orchestra and in 1993, the Deutsches Symphonie-Orchester, Berlin. Ferenc Fricsay: The Mozart Radio Broadcasts (DG 4798275, 4 CDs in a hardcover book) includes recordings from Deutschlandradio (1951-52).
The repertoire: Symphonies 1, 4-9, 23 and 27, the Bassoon Concerto K191, Sinfonia Concertante K297b, Cassation K63, Serenade K375, Ein Musikalischer Spass K522, Serenata Notturna K239 and Divertimenti K247 and 334. Also Sull'aria from Le Nozze di Figaro (with Suzanne Danco and Rita Streich) and In quali accessi, o Numi … Mi trade quell'alma ingrate from Don Giovanni (Suzanne Danco).
From the very first bars I knew this was something special and during the afternoon played through all four discs. It barely matters that the pristine sound is mono. These are performances not for critiquing but for simple joy.