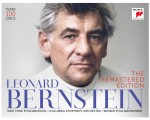 Leonard Bernstein - The Remastered Edition (100 CDs)
Sony 541714
In her 1998 DVD Reaching for the Note, Susan Lacey recalls the way the moment felt. "It is very rare that someone dies and the whole community seems to be part of that event. It's as if everything else stopped and for that moment the world turned around that event."
Such was the case in New York City following the death of Leonard Bernstein on October 14, 1990. When the funeral cortege left from the Dakota, his apartment on the Upper West Side, there was already a large gathering across 72nd Street to pay homage and see him off. "There was this phalanx of motorcycle cops and police cars leading this enormous cortege out to Brooklyn's Greenwood cemetery… When we came out on the Brooklyn side of the East River there was a big construction project and in spite of all the cops and motorcycles and police cars and everything, we came to a dead halt. And on the side were all these hard hats and mothers of various sorts with baby carriages and Orthodox Jews who just happened to be passing by. A perfect cross-section of New York City. And finally the sirens began again as this slowly started to move out, all these people! I especially remember the hard hats all waved and took off their hats and said. 'Goodbye Lenny, goodbye.' I can't think of anything, anything, in the world that would have pleased Lenny more than that."
Leonard Bernstein – The Remastered Edition does not pretend to be in any way encyclopedic, but it gives profound insight into every facet of his musical life. New York City claimed him but Bernstein, conductor, composer, pianist, educator, author and music lecturer was born in Lawrence, Massachusetts on August 25, 1918, the eldest of three children of Ukrainian-Jewish parents. Soon after, they moved to Boston where father Samuel built up a prosperous business in hairdressing supplies. Samuel expected, naturally, that his elder son would go to college, return and take over the business. However, when Leonard was only ten, cousin Lillian's unwanted upright piano was moved into their parlour and the die was cast. From the first note he knew that music was his calling. He could play by ear the tunes he had heard and improvise freely. At 13, he composed a piano concerto with a program, "a war between the Russians and the Gypsies." At 14, after a disastrous year with two really incompetent teachers, he went to Heinrich Gebhard, one of Boston's most respected teachers who entrusted him to his assistant, Helen Coates. She completely understood her earnest pupil's impatience with practise and studies but instilled in him self-discipline. Bernstein credited her with being a decisive influence in his training. When he became known and successful he sent for her to be his personal secretary. She became his close friend and lifelong personal assistant and representative. Their letters are part of the Bernstein Collection in the Library of Congress.
At 16, he heard his first live concert when he went with his father to hear the Boston Symphony under Serge Koussevitzky who later became his teacher and close friend. He attended the Boston Latin School. In the summers at Sharon, Massachusetts, he produced and directed shows with the Boston Public School Orchestra with entertainments like Gilbert & Sullivan and Carmen. He graduated in 1935 and thence to Harvard, where he met many of those who would become his lifelong friends. He studied with Walter Piston, Edward Burlingame Hill and Arthur Tillman Merritt. He met Aaron Copland who became a major influence. Also, Dimitri Mitropoulos asked him to play and was so exceedingly impressed that he invited Bernstein to rehearsals with the Boston Symphony. For Bernstein's part, he was taken by the older conductor's intellect, his unique conducting style and his personal dynamism. He graduated from Harvard in 1939 and enrolled at the Curtis Institute of Music in Philadelphia where he studied conducting with Fritz Reiner, orchestration with Randall Thompson, counterpoint with Richard Stöhr and score reading with Renée Longy Miquelle. Reiner said later that Bernstein received the only "A Grade" he ever awarded. After Curtis he spent some time in NYC, then in Boston where Koussevitzky, who was sort of a father figure, was a major influence on Bernstein's emotional interpretations.
Shortly after he had been appointed (under Artur Rodziński) assistant conductor of the New York Philharmonic, Bernstein made his life-changing major conducting debut. Guest conductor Bruno Walter was unable to conduct the afternoon concert of November 14, 1943. Bernstein was told early that morning that he was to conduct the concert. He had not rehearsed but stood before the orchestra and conducted the concert that was heard coast to coast on the CBS Radio Network. A star was born and Leonard Bernstein was well on his way.
In 1958, after he guest conducted major orchestras around the world, he was appointed music director of the New York Philharmonic, a post he held until 1969. After that he was seen and heard around the world conducting and teaching, making recordings and videos and, when he could make time, composing. In truth he most solemnly desired to be remembered as a composer. Consider his works for the theatre that include Peter Pan (1950), On the Town (1944), Trouble in Tahiti (1952), West Side Story (1957) and Candide (1956 rev.1973 rev.1989); also all the ballets, Fancy Free (1944), Facsimile (1946) and Dybbuk (1974), all of which are included in this unique edition of the remastered original recordings. His own works for the concert hall chosen for inclusion are the three symphonies, Jeremiah (Symphony No.1, 1942), The Age of Anxiety (Symphony No.2, 1949 rev.1965) and Kaddish (Symphony No.3 1963 rev. 1977). Prelude, Fugue and Riffs (commissioned by Woody Herman in 1949) is here with Benny Goodman. Torontonians heard this work with Bernstein conducting the Vienna Philharmonic Orchestra in Roy Thomson Hall in the late 1980s.
Mahler figured prominently in Bernstein's programs, recording all the symphonies except the Eighth with the Philharmonic during his tenure there. His Mahler was something to hear and see, as his demeanour suggested an enraptured identification with the composer. Mahler's symphonies Two, Three, Six and Nine are here together with Kindertotenlieder and excerpts from Rückert Lieder both with Jennie Tourel, and Des Knaben Wunderhorn and Lieder eines fahrenden Gesellen with Christa Ludwig, Walter Berry and Dietrich Fischer-Dieskau. In this unique collection are the works of 70 composers from A to Z in compositions ranging from marches, incidental music, ballets, encore-type pieces, chamber music, concertos, symphonies, operas, ballet music, lieder, film music, overtures, etc. Assisting artists include Isaac Stern, Lucas Foss, Adele Addison, Glenn Gould, Eileen Farrell, Andre Watts, Charles Bressler, Felicia Montealegre, Benny Goodman, Zino Francescatti, Regina Resnik, Erich Kunz, Yehudi Menuhin, Julius Baker, Judith Raskin, Judith Blegen, Robert Casadesus, Barbara Cook and others. Also heard are the Juilliard String Quartet, the Westminster Choir, the Vienna Philharmonic Orchestra, the Vienna State Opera Chorus and the Camerata Singers, among others.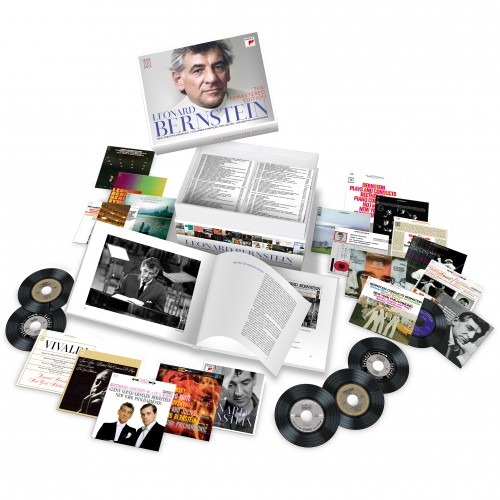 In summary: this edition is a collection of some significant recordings from 1945 to c.1976 issued by Columbia/Sony, either recently or newly remastered for the occasion. The opulent boxed set of 100 CDs in original covers includes a lavishly illustrated, 196-page hardcover book of presentation quality outlining the often complex remastering of the process. Compared to the previous releases of all the recordings that I have sampled these new incarnations are a revelation. For instance, I was disappointed in the perfunctory performance on the original release of Liszt's Faust Symphony, also with the version on The Royal Edition. However, in this new presentation the sound is immediate and dynamic, revealing playing that is most certainly alert.
I wonder, out of the many hundreds of Bernstein performances of so many different works in the Sony archives, how particular recordings were chosen. It certainly wasn't the choice of someone or other with little or no knowledge, nor was it a computer's choice based on sales. For example, the performance of The Age of Anxiety decided upon is the original mono version recorded on February 27, 1950 with soloist Lucas Foss, a recording that required a lot of time and dedication to restore the less-than-mint original elements. How much easier it would have been to utilize the 1965 performance with Philippe Entremont. Regardless, it is the earlier performance that we hear on this well-chosen collection. Well-chosen indeed; there are works one would never think of including, but there is not one that I would remove.
There are complete details of every disc at arkivmusic.com and an interesting YouTube video about the project, titled Leonard Bernstein – The Art of Remastering.