Thanks to the readers who wrote about last month's column in which I said WBEN-FM is the choice of musical lovers in our area. I meant WNED-FM at 94.5 or on their web site.

A pleasant surprise on Great Voices of the Golden Age (Medici Arts DVD, EDV1333) was the opportunity to see Dutch soprano Gré Brouwenstijn (1905-1999) singing Wagner. Two songs from the Wesendonck-Lieder are followed by Isolde's Liebestod, recorded live in 1969 during a concert in Paris conducted by Charles Bruck. She possessed a rich voice, an Ingrid Bergman-like countenance and a stage presence that together attracted conductors Klemperer, Karajan, Beecham and others. I wish there were more from her on this disc which includes Gundula Janowitz, Irmgard Seefried, Galina Viishnevskaya, Rita Streich and Christa Ludwig.

Great Voics Of The Golden Age



At Grigorian.com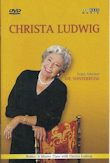 Christa Ludwig has an excellent DVD containing Die Winterreise and part of a Mozart Master Class (Arthaus DVD 102147). Schubert's song cycle which is set to the two cycles by Wilhelm Müller is an astonishing realisation of the human condition. Traditionally sung by a male voice, it is no less poignant from a female voice, particularly from an artiste of Ludwig's calibre. She had them transposed to her natural vocal range so that "... it was my voice and not an artificial voice created just so you can sing something in the original version… I maintain that this is the winter's journey of a soul and not that of a man or a woman." Recorded in Athens in 1994, this is an exceptional, devoted performance reflecting a total empathy with the thoughts and implications of the texts.

Schubert: Die Winterreise (ludwig)



At Grigorian.com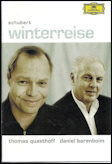 For those who wish a male voice for Die Winterreise, the DVD of Thomas Quasthoff with pianist Daniel Barenboim, issued a couple of years ago, is the finest I've ever seen or heard (DG 0734049). Filmed in the Berlin Philharmonie on 22 March 2005, the disc also contains some interviews and rehearsals. We are privy to singer and accompanist freely exchanging ideas and arriving at meaningful interpretations of matchless intensity.
Schubert: Die Winterreise



At Grigorian.com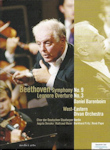 Daniel Barenboim is the conductor of his West-Eastern Divan Orchestra in a new DVD of the Leonora Overture No.3 and the Beethoven Ninth (Medici Arts 2055528). This was a concert given in the Berlin Philharmonie on August 27, 2006 with soloists Angela Denoke, soprano; Waltraud Meier, mezzo; Burkhard Fritz, tenor; and René Pape, bass, and the State Opera Chorus. Barenboim assembles the orchestra every summer, bringing together young musicians from Israel and the Arab countries. They tour widely and Barenboim's hope is that this orchestra is a visible and viable artistic link between their people. Here is absolutely inspired playing with each and every player giving it better than their best. So well rehearsed are they that Barenboim's directions are fewer than one is accustomed to seeing. I have viewed this DVD several times and have not been tempted to skip forward or stop. These are stunning, professional performances, superbly documented. Viewing this concert and seeing the performers and conductor was a definite plus to the appreciation of the music. Seeing and hearing becomes one experience.
Beethoven: Symphony No. 9 (barenboim)



At Grigorian.com

A new DVD entitled Herbert von Karajan Memorial Concert features The Berlin Philharmonic, Seiji Ozawa conducting with soloist Professor Anne-Sophie Mutter recorded in Vienna's Grosser Musikvereinssaal on the 28 January 2008. The program opens with the Beethoven Violin Concerto followed by an encore of the Sarabande from Bach's Partita No.2 for solo violin and finally the Tchaikovsky Sixth Symphony (Medici Arts 2072514 for Blu-ray; 2072518 for DVD). All three works are in the stratosphere of superlative interpretations and performances, quite faultless, I thought. The deeply felt performance of the symphony, played without any histrionics, immediately joins the very short list of the greatest on record. Frankly, I didn't believe that Ozawa had it in him. Mutter has never played better or more brilliantly than she does here, employing the Fritz Kreisler cadenza in the first movement. Her fans, as well as lovers of the concerto will be beside themselves. All are abetted by the best sound ever accorded these pieces. The camera work demonstrates how far the art has progressed over the years, in this case seen from the Blu-ray disc. If you are yet undecided about Blu-ray then this may well be the tipping point for you.


Last year was the centenary of the birth of Olivier Messiaen, the French composer whose music is still an enigma for the majority of world's classical music lovers. He was also a teacher who led his pupils into the captivating and alluring, yet knotty ways of departure from the establishment. He was an organist and, more significantly, an ornithologist. Significant because he was fascinated by bird songs and believed birds to be natural born musicians. Maybe they are. He notated bird songs around the world and ardently incorporated transcriptions into his works as if were divinely obliged to do so. His best known work is probably The Quartet for the End of Time which he wrote while a prisoner of war for short time in 1940 after the fall of France in WW2. The combination of instruments was dictated by the available players; piano, violin, cello and clarinet. As an aside, during a conversation, an interview, I asked conductor Ricardo Chailly this question, "You work in a record store. A grandmother asks for a recording to introduce her nine year old granddaughter to classical music. What do you give her?" Without any hesitation whatsoever he answered, The Turangalîla Symphony. Not his recording, but the 'definitive' version conducted by Myung-Whun Chung is included in Olivier Messiaen Complete Edition issued by Deutsche Grammophon in France on 32 CDs in a very neat little box (DG 4801333), available in a limited edition. At a special low price, here are all Messiaen's published works performed by a host of well known musicians, far too numerous to list here. Indeed, un vrai Banquet cèleste.

At Grigorian.com