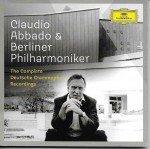 Claudio Abbado & the Berlin Philharmoniker: The Complete Recordings on Deutsche Grammophon (DG 4835183 60 CDs deutschegrammophon.com/en/cat/4835183) Claudio Abbado's collaboration with the Berlin Philharmonic began in 1966 when he first stood before the orchestra. Born in Milan on June 26, 1933 he was just 33 years old at the time and his name was already familiar to music lovers and record collectors around the world. He had been principal guest conductor with the London Symphony Orchestra from 1975 to 1979 at which time he was named principal conductor, the post he held until 1987, having also been appointed music director in 1984. During his LSO tenure he made many exemplary recordings for DG, most of which are still in the catalogue. My favourite version of Le Sacre du Printemps was, and probably still is, his February 1975 spectacular recording made in Fairfield Hall, Croydon. From 1982 to 1985 he was principal guest conductor of the Chicago Symphony Orchestra where DG produced many recordings. He had already recorded the Mahler Second Symphony with them in 1976 and it is the only Mahler symphony not in this new set of Berlin recordings. In 1986 he became the general music director of Vienna and at the same time music director of the Vienna State Opera. In 1988 he founded the music festival, Wien Modern.
Herbert von Karajan died on July 16, 1989 and in that same year Abbado was voted to succeed him as the orchestra's new chief conductor and music director, a position he would hold from 1990 to 2002. Abbado had already done some recording with the orchestra but now what does a record company do? They record another Beethoven symphony cycle. So it began, not in Berlin but live in Rome in the Academia di Santa Cecilia. During February 2001 they recorded the first eight, returning to the Philharmonie in Berlin for the Ninth. The difference between the two conductors is apparent. Karajan always sought the most beautiful sounds, which had its rewards, but Abbado looks deeper and reveals the sinews that support the satin exterior. I played the symphonies right through simply for hearing these warhorses anew. Why didn't I do that when they were issued on CD? Checking the original issue, the venue for the First through the Eighth is the Philharmonie with different recording dates starting in 1999. These are different performances, except for the Ninth and are not included in this edition. The five piano concertos with Maurizio Pollini are brilliant. They also collaborate on a disc of the Schumann and Schoenberg piano concertos. The Brahms Symphonies are equally transparent and most often sound freshly minted. As an example, the opening movement of the First has a very positive feeling, missing the lumbering juggernaut often heard elsewhere. There is a Mahler Symphonies cycle minus the Second. It sounds like everything Abbado touched he illuminated without lessening the impact. There are two Prokofiev Third Piano Concertos, with Evgeny Kissin and Martha Argerich.
Guest artists in various repertoire include Anne Sofie von Otter, Thomas Quasthoff, Karita Mattila, Michael Schade, Bryn Terfel, Christine Schafer, Lilya Zilberstein, Roberto Alagna, Alfred Brendel, Gil Shaham and many others including Viktoria Mullova. The repertoire includes Debussy, Dvořák, Hindemith, Janáček, Stockhausen, Berg, Mozart, Richard Strauss, Tchaikovsky, Verdi, Wagner and many others. No Bach, no Vivaldi. A most interesting collection indeed.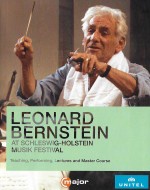 Leonard Bernstein at Schleswig-Holstein Musik Festival (Cmajor 746704, Blu-ray video cmajor-entertainment.com/movie/leonard-bernstein-at-schleswig-holstein-musik-festival-746704) is a captivating documentary of the "Teaching, Performing, Lectures and Master Course" in Salzau, south east of Kiel, to create an orchestra for the 1988 Musik Festival there. I should have written assemble, as create strictly means making something out of nothing. Not so here. The orchestra was composed of 120 eager young men and women from around the world chosen from the 1600 young musicians who competed in national auditions. In Part 1, the orchestra is working through various repertoire, particularly Le Sacre du Printemps negotiating tricky passages, working on ensemble, etc. Clearly these young musicians did not come here to learn to play. They have no technical difficulties. They are rehearsed and advised by various teachers including more than a few members of prominent orchestras including the Berlin Philharmonic. In addition to the orchestral work there are times for get-togethers for duets, trios, quartets and the rest plus extra-musical frivolity and socializing. Eventually, they become an orchestra that can confidently play Le Sacre, the work from 1913 considered unplayable for decades. They are ready for the maestro.
In Part 2 Bernstein meets the orchestra and the first thing he asks is that they show him the entire orchestra playing a C-major scale from the lowest sounding C on their instrument, up and down. He is more than pleased. He guides them, always in good humor, through the thorny passages instructing them by example, often using similes and metaphors to illustrate a point. Absolutely fascinating. Watching all this, we can also learn a lot and may ourselves pay extra attention at these junctures at a performance. His last words to the orchestra, "I cannot do this to you anymore. You are fantastic."
Part 3 is a record of the Master Course for conductors. They are there to better their ways of letting the players know exactly what they should be doing. There is some body language that we viewers in the audience can watch for, although some conductors do it mostly with their eyes. One of the conductors in the competition is Marin Alsop who was to later regard Bernstein as her mentor. There is a bonus. From the Musikverein in Vienna, Bernstein conducts the Schumann A-Minor Piano Concerto with Justus Frantz and the Philharmonic. Enthusiastically recommended to anyone with more than a passing interest in music.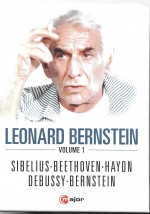 Cmajor also recently compiled a set of their DVDs as Leonard Bernstein Volume 1 (Cmajor 743008, 6 DVDs shop.cmajor-entertainment.com/items/leonard-bernstein-vol.1-416692) containing extraordinarily powerful, over-the-top live performances of Symphonies 1, 2, 5 & 7 by Sibelius with the Vienna Philharmonic; Debussy's Images, Prelude to the Afternoon of a Faun and La Mer with the Santa Cecilia Orchestra; Beethoven's String Quartet No.16 with the Vienna Philharmonic and Haydn's Mass in Time of War with Judith Blegen, Brigitte Fassbaender and the orchestra and chorus of the Bavarian Radio; a documentary on Bernstein, Larger Than Life with interviews by scores of notables, and finally Tanglewood – 75th Anniversary Celebration. Avid collectors may already have one or two of these.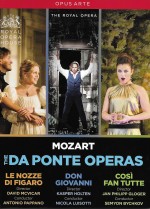 I have long been a fan of the videos from the Royal Opera House making their release of the Da Ponte Operas by Mozart, Le Nozze di Figaro, Don Giovanni and Cosi Fan Tutte a noteworthy event (OpusArte BD7251, 4 Blu-ray video discs naxosdirect.com/items/mozart-the-da-ponte-operas-458931). Don Giovanni was recorded in 2014 conducted by Nicola Luisotti with direction by Kasper Holton. Mariusz Kwiecien is Giovanni, Alex Esposito is Leporello, Malin Bryström is Donna Anna and Véronique Gens is Donna Elvira. The Commendatore is Alexander Tsymbalyuk. The costuming is contemporary, very natural and not at odds with the libretto and Mozart's score. Le Nozze di Figaro from 2006, is conducted by Antonio Pappano with direction by David McVicar. Included in the cast we have Erwin Schrott as Figaro, Miah Perrson as Susanna, with Gerald Finley singing Count Almaviva and Dorothea Röschmann as the Countess. Cherubino is sung by Rinat Shaham and Philip Langridge is Don Basilio. Cosi fan Tutte from 2016 is conducted by Semyon Bychkov with direction by Jan Philipp Gloger. Daniel Behle is Ferrando, Alessio Arduini is Guglielmo and Johannes Martin Kränzle is Don Alfonso. Corinne Winters sings Fiordiligi, Angela Brower is Dorabella and Despina is sung by Sabina Puértolas.
Each of these productions is much better than average, being most satisfying on all counts wherein Mozart's genius easily shines throughout. In sum, the staging for all three is creative and imaginative, with unfailing wit. The voices for the most part are perfectly ideal for the roles. The directing is inviting and the acting continuously convincing, enhancing the subtleties of both Mozart and his librettist Lorenzo Da Ponte. Everything works. A delight for Mozart lovers. There are lots of extras including the director's voiceover commentary on Don Giovanni and more. Both audio and video quality are state of the art in this Blu-ray edition, sturdily slip-cased with a 70-page fine-art, four-colour booklet.