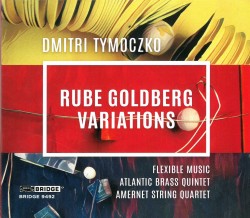 Dmitri Tymoczko – Rube Goldberg Variations
Flexible Music; Atlantic Brass Quintet; Amernet String Quartet
Bridge Records 9492 (bridgerecords.com)
Mid-career American composer and music theorist Dmitri Tymoczko's music exhibits an attractive blend of jazz, Romanticism and rock, as well as influences from film and cartoon soundtracks. Demonstrating sonic imagination and frequent nods to past composers, his work appears to be equally at home in the American concert hall modernist and popular music streams, a compositional style which has been dubbed polystylistic.
Rube Goldberg Variations, the central work on this album, refers both to a certain J.S. Bach keyboard work, and to the American cartoonist known for his illustrations of machines designed to perform simple tasks in baroque, convoluted ways. The four-movement, 19-minute Variations is scored for brass quintet and prepared piano. In its movement titles Tymoczko refers to his musical ancestor Igor Stravinsky, to kinetic sculpture and to his experiences of fatherhood. Rhythmically and sonically engaging, the prepared piano part in the first movement, To a Leaf, refers to its inventor John Cage. The brass quintet flutters along with idiomatic fanfare-like wind polyphony contrasted by contrapuntal brassy sustained chords. Stravinsky Fountain is another effective movement, with its shards of jazz in a syncopated early-20th-century style, and references to the dedicatee composer's adoption of it in his concert works. This single movement is a satisfying complete musical statement.
The other album works, S Sensation Something (string quartet and piano) and I cannot follow… (chamber ensemble), are more conventional in instrumentation and form. They are not however without the melodic invention and easygoing charm with which Tymoczko brands his mature scores.