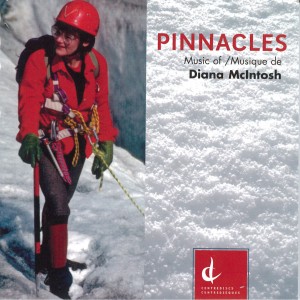 Pinnacles - Music of Diana McIntosh
Various Artists
Centrediscs CMCCD 15810
The CD cover picture of composer/pianist Diana McIntosh standing on Ophidian Glacier says it all – she loves the great outdoors. Her compositional inspirations range from Canadian glaciers to the peaks of Kilimanjaro in this intriguing new release.
McIntosh evokes nature's wide open spaces through her use of her wide open melodic intervals. (An interval is the distance between two adjacent notes). Any listener still wary of new music's dissonant qualities will quickly be won over by her use of sound to evoke images of natural beauty.
McIntosh is also an excellent pianist who is continuing the centuries old tradition of the composer performing their own works. Like popular music's singer/songwriters, nobody really plays her music better than McIntosh herself. However, she has guided the other featured instrumentalists to interpret perfectly. Of special note is violinist Karl Stobbe in the opening chamber music track Approaching Kilimanjaro, and to no surprise, the composer's longtime collaborator, local percussion superstar Beverley Johnston in the duet Uhuru Kamili. Only McIntosh's spoken text/narration in From Wapta Ice is slightly over the top in its emotive qualities, and could be more understated to better fit in with her musical sensibilities.
The good people at the Canadian Music Centre's Centrediscs have yet again produced a high quality release. "Pinnacles" showcases the music of Diana McIntosh at the pinnacle of her artistic career.