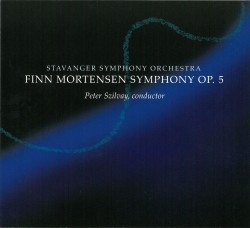 Finn Mortensen – Symphony Op.5
Stavanger Symphony Orchestra; Peter Szilvay
SSO Recordings 3917-2 (sso.no)
Weighty Brucknerian moods and gestures imbue the dark-hued, dramatic Symphony by the previously unknown to me Norwegian composer Finn Mortensen (1922-1983), enhancing a powerful and rewarding listening experience, so much so that I played and enjoyed it again immediately after my first hearing.
A restless, long-lined chromatic melody in the lower strings launches the Allegro Moderato. A gentle English horn solo then creates a moment of calm before a storm of prolonged, repeated thunderbolts, followed by a return to the grumbling opening theme. Finally, a solo flute breaks through the gray clouds with a ray of sunlight and the movement ends in radiant glory.
The Adagio continues the pervading noir-ness, a gripping musical counterpart to the popular, bleakly brooding Nordic detective novels. The scherzo, marked Allegro Vivace, alternates dancing, light strings and woodwinds with heavy, ponderous brass and percussion. In the final Allegro Moderato, an aggressive fugue leads to the English horn melody of the first movement, now transformed into a triumphant concluding brass chorale.
This tempestuous, late-Romantic music receives a full-blooded performance from the Stavanger Symphony Orchestra, conducted by Peter Szilvay, who first fell under the Symphony's potent spell as a teenage violist performing it with a Norwegian youth orchestra. At only 37 minutes, this CD may seem less attractive than the two other CDs of the Symphony, both of which include additional Mortensen works; nonetheless, this splendid recording of this splendid symphony is well worth your consideration.