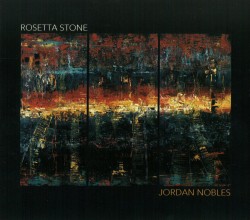 Jordan Nobles – Rosetta Stone
Various Artists
Redshift Records TK461 (redshiftrecords.org/releases/tk461)
Prolific Canadian postclassical composer Jordan Nobles has won numerous awards for his scores, including a 2017 JUNO. He also serves as the artistic director of Redshift Music Society, among Vancouver's most active contemporary music groups. In 2007 it launched Redshift Records, its own label, with an ambitious regionally rooted catalogue that today lists some 39 CDs.
Nobles' minimalistic collection of nine works collectively titled Rosetta Stone: Music for Multiples is among Redshift Records' latest releases, selected from the composer's Open Score Collection of 25 experimental compositions for non-fixed instrumentation. In the liner notes flutist Mark Takeshi McGregor notes that the idea of multiples – musical works composed for several identical or like-sounding instruments – has been a decades-long preoccupation of Nobles. "Whether it's eight saxophones, six harps, or 24 vibraphones, the monochromatic ensemble presents a creative restriction" capable of surprisingly complex and attractive musical results.
Using multitrack studio recording techniques Nobles opted to have each work on the album performed by a single musician, such as möbius (for ten grand pianos), or air (for 16 bass flutes).
The musical results are remarkably varied, ranging from the dramatically breathy, dense, natural harmonics-based stereophonic swirl of air to the plucked string overtone-rich sound clouds of ephemera (for four seven-string electric guitars).
Perhaps, like me, you'll find the ever-modulating, plush but never saccharine bass-centric chords of still life (for eight five-octave marimbas) the peaceful six-minute soundbath you crave on a hectic day.