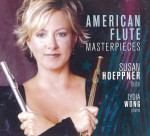 American Flute Masterpieces
Susan Hoeppner; Lydia Wong
Marquis 774718141323
This CD is itself a little masterpiece: the six works on it by 20th century American composers, already recorded by many other flutists, are performed with such style, panache, and artistry that it is a welcome and justified addition to the catalogue.
The first track is the opening movement of Eldin Burton's Sonatina. Susan Hoeppner's phrasing is mesmerizing, to the point that I want to play this over and over again! Her interpretation of the Canzone from the second movement of Samuel Barber's Piano Concerto is serene and measured, but perhaps a little too dispassionate. The most wonderful moments in the entire CD, for me anyway, come in the second movement of Lowell Liebermann's Sonata Op.23. Hoeppner and Lydia Wong build on the strength of each other's playing to come to a thrilling and almost superhuman intensity. Their performance of John Corigliano's Voyage, while embracing the simplicity of the piece, infuses it with great sensitivity and tenderness and at times intensity that arises entirely out of the sound and colour of the flute. Hoeppner and Wong give stirring performances of the last two compositions, Aaron Copland's lyrical Duo for Flute and Piano and Robert Muczynski's technically challenging Sonata Op.14.
This CD brings us definitive performances of music from an ongoing "golden age" of composition in the United States, which continues to thrive in the protective enclaves of universities despite the vicissitudes of these tumultuous times. Kudos to both artists; this CD is a winner.