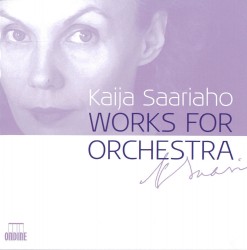 Saariaho – Works for Orchestra
Various Orchestras
Ondine ODE1113-2Q
There must be something in the water in Helsinki. For a country of just over five million people, Finland seems to produce a disproportionate amount of musical talents — instrumentalists, vocalists, conductors and composers. Kaija Saariaho is no stranger to Toronto audiences: the COC produced the hauntingly beautiful L'amour de loin this season, along with notable performances by the TSO and Soundstreams.
In a sparsely populated Nordic country, an artist feels connected to nature and light (or the lack thereof). Many of the works on this compilation — Lichtbogen, Solar, Orion, Notes on Light — look to the cosmos, and Saariaho's writing is starkly beautiful. Her use of electronics is meticulously intertwined and delicately masterful — undoubtedly the result of her time at IRCAM in Paris, and the influence of spectralism pioneers Tristan Murail and Gérard Grisey. But it is the diptych Du cristal and … à la fumée that confirms this composer's inimitability: as in a crystal, macroscopically the structure seems complete, but upon closer inspection, we see not only detail, but growth. Her polymorphic textures progress like an ethereal sublimation.
Saariaho's connection to the voice is mesmerizing: she integrates text into her orchestrations in a strikingly unique way. Cinq reflets de "L'amour de loin" revisits the music from the opera, but in her process, she has created a completely new work. Grammaire des rêves sets poems of French Surrealist Paul Éluard (not to be confused with her other great vocal work, From the Grammar of Dreams). The voice is treated as instrument, and the ensemble as voices in a texture that rivals (and perhaps surpasses) the great vocal works of Berio. Of all the fantastic singing, I would be remiss not to mention Mirage, featuring the powerful lyric soprano Karita Mattila, whose luminous sound is more often heard in the world's leading opera houses.
For me, the highlight of the set is undoubtedly cellist Anssi Karttunen, who lends his acrobatic and nuanced virtuosity to four substantial works. But it is difficult to single out a star player on this Finnish powerhouse team that includes conductors Esa-Pekka Salonen (with the Los Angeles Philharmonic), Jukka-Pekka Saraste (with the Finnish Radio Symphony Orchestra) and Hannu Lintu (leading the superb Avanti! Chamber Orchestra).
I could say that Saariaho's orchestral writing fuses the stark grandeur of compatriot Sibelius, with the stratified texture of Stravinsky, with the slowness of process heard in Ligeti — but it would not do her music justice. Over 20 years of music on four discs reveals a distinguished voice in contemporary orchestral writing; I look forward to hearing the next 20. And she is welcome back to Toronto anytime.