Eatock, Colin – Chamber Music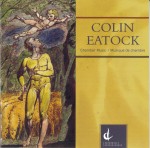 Various Artists
Centrediscs CMCCD 17812
Toronto-based renaissance artist Colin Eatock is successful and thought provoking at whatever he attempts. As a writer and critic, he is thorough and relentless at unearthing the truth. As a composer, he is justified in his acknowledgement of such musical influences as Shostakovich, Messiaen and Crumb, as he experiments and develops the truth of his own sound.
The six works featured here were composed from 1987 to 2010, and are colourful examples of his favourite musical worlds. Eatock is strongest in the three vocal works. Especially noteworthy is the final movement of Three Songs from Blake's "America" (1987). The transparent piano part exposes the bass-baritone (Andrew Tees) in a haunting hummable melody. This ethereal sparse quality again surfaces in the "Elegy" movement of the Suite for Piano (1995) performed by Timothy Minthorn. The stillness of this movement is a welcome rest after the previous jaunty Toccata with its movie music chase lines.
Eatock's compositions are carefully written works that accommodate the performer while pushing them to enter his harmonic nuances. All the musicians on this studio release recorded at various times since 1999 are superb in their interpretations. Recording quality is of an equally high standard.