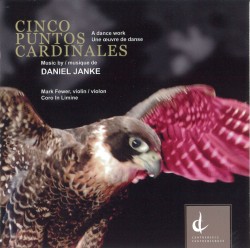 Daniel Janke - Cinco Puntos Cardinales
Mark Fewer; Coro In Limine
Centrediscs CMCCD 16911
In part compositions for violin solo, a men's chorus, mixed instrumental ensemble and soundscapes from South America, the unifying principle of this eclectic collection is its design as an accompaniment and essential text to a modern dance work by the Lima Peru dance company, Danza Contemporanea.
The work's title may be translated as "Five Cardinal Points" and its choreographer Yvonne von Mollendorff suggests a metaphysical reading: the four directions of the compass plus the fifth – "the self, the observer." The work's sections range widely in kind from three austere solo violin pieces eloquently performed by Mark Fewer, to the rhythmic sound of palm fronds in Guyana, to the lush male sounds of the Peruvian Coro in Limine. Composer Daniel Janke deftly merges international and his own Canadian musical influences and creates a work that verges on the cinematic in scope. The variety of performing ensembles and where they were recorded geographically reminds one of Janke's more recent career as a film writer, composer and director.
Adding to the kaleidoscope of aesthetics and genres is a track recorded with some of Toronto's top improvisers, as well as a West African tinged track Miawezo. The latter composition alludes to Janke's studies of the kora (West African harp-lute) in the 1970s and '80s with some of its leading hereditary Jali musicians.
Long devoted to incorporating world music influences in his compositions, Daniel Janke continues to boldly bridge parts of our globe through the music on this album.