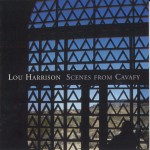 Lou Harrison - Scenes from Cavafy
Gamelan Pacifica; Jarrad Powell
New World Records 80710-2 (www.newworldrecords.org)
The long list of non-Indonesian composers who have been intrigued and inspired by the instruments and music of the gamelan (an indigenous Indonesian orchestra) goes back some 250 years. Starting with Jean-Philippe Rameau in the 18th c., the lineage continues with Debussy and led to compositions by the Canadian Colin McPhee, and to works of Steve Reich and to many more musicians active today.
There was no more eager convert to the gamelan as a Western musical resource however than the American composer Lou Harrison (1917–2003). As well as composing dozens of works for various types of gamelans, Harrison served as a generous mentor to a generation of musicians who have subsequently taken the gamelan music model into their own musical domains. These include Toronto's Evergreen Club Contemporary Gamelan and Seattle's Gamelan Pacifica.
The top-notch musicians of the latter perform definitive versions of the three large-scale Harrison works for Central Javanese style gamelan on this album. The Seattle composer and expert gamelan musician Jarrad Powell convincingly directs the extended ensemble of instrumentalists, choir and vocal soloists in the three works here.
The Concerto for Piano with Javanese Gamelan (1987) is the most substantial of the eight Harrison works combining Western solo instruments and the gamelan. The piano is retuned to match the gamelan instruments. This is an effect which provides bracing listening at first, but to which friendly ears warm by the slow cantabile movement, a Harrison specialty.
A Soedjatmoko Set (1989) illustrating Harrison's mature gamelan style, features Jessika Kenney, an outstanding American soprano. She manages the most difficult of musical tasks: to convincingly nail a sort of magical amalgam of both Javanese and late 20th c. American vocal style, articulation, timbre, intonation and mood, at the same time. Together with the excellent liner notes, this recording is a fitting tribute to Harrison's ideal of the peaceful coexistence of world music cultures, demonstrated here at a very high level indeed.