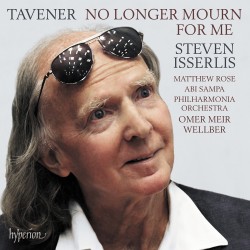 Tavener – No Longer Mourn for Me
Steven Isserlis; Philharmonia Orchestra; Omer Meir Wellber
Hyperion CDA68246 (hyperion-records.co.uk/find.asp?f=CDA68246)
Some albums follow a linear and straightforward path through their conception, recording and release, while others take many years of behind-the-scenes planning and work before finally reaching a listening audience. Tavener: No longer mourn for me falls into this latter category, starting its gestation as cellist Steven Isserlis' own passion project in 2013, thrown into disarray by Tavener's death later that year and, after a long and labyrinthine journey, eventually unveiled seven years later, in October 2020.
As is the case with much of Tavener's output, many of the works on this disc defy strict categorization, a reflection of the composer's numerous and eclectic influences including the Orthodox Church, the Anglican Cathedral tradition, Catholicism, Islam, Tolstoy and Shakespeare. The two principal tracks, The death of Ivan Ilyich and Mahámátar, are fascinating and stunningly beautiful cross-cultural experiences: in Ivan Ilyich, Tolstoy's text (sung in English by bass Matthew Rose) draws on Tavener's influences to form a uniquely dramatic work resembling a one-act opera; Mahámátar features Sufi singer Abi Sampa, along with Isserlis and the Trinity Boys Choir, in a magnificent exploration of East-meets-West through Tavener's eyes and ears.
The remaining works on No longer mourn for me are, although smaller in scale and performing forces, no less impressive, either from a compositional or interpretive perspective. Of particular interest are the two arrangements for eight-cello ensemble: Shakespeare's Sonnet LXXI, No longer mourn for me; and the Preces and Responses, a sublime setting of the prayers traditionally sung at the Anglican service of Evensong, originally composed for choir.
John Tavener's lengthy and highly regarded career resulted in an extraordinary range of material, as varied as the composer's influences and inspirations. Although only a portion of his late works is represented on No longer mourn for me, their depth and breadth serve both as an introduction for those previously unfamiliar with Tavener, as well as a point of exploration and discovery for those seeking to delve deeper into this great composer's eclectic and evocative style.