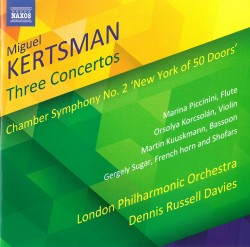 Miguel Kertsman – Three Concertos; Chamber Symphony No.2 "New York of 50 Doors"
Marina Piccinini; Orsolya Korcsolán; Martin Kuuskmann; Gergely Sugar; London Philharmonic Orchestra; Dennis Russell Davies
Naxos 8.573987 (naxos.com)
Brazilian/American Miguel Kertsman utilizes his artistic musical experiences as a composer, keyboardist, producer, audio engineer and music executive to compose classification-defying symphonic music that ranges from classical to atonal to mainstream/modern jazz to rock to folk.
The passionate performances by the London Philharmonic Orchestra under conductor Dennis Russell Davies support the soloists. Flutist Marina Piccinini performs colourful long-held notes, melodies and rhythmic sections in the Concerto Brasileiro for Flute, Strings and Percussion. Noteworthy are her virtuosic closing first-movement flute cadenza-like coda, and the third movement rhythmic folk/orchestral Repentes dance featuring flute and string conversations with percussion flourishes. Concerto for Violin, Horn, Shofar and Orchestra is an exciting four-movement exploration of styles, tonalities and rhythms. Journey for Bassoon and Orchestra is a geographical/musical trip. The outer movements are named after the composer (and soloist bassoonist) Martin Kuuskmann's hometowns – the Tallinn movement features a lyrical Nordic-flavoured bassoon line, while the final Recife movement develops from an extended string fugato to a lively Brazilian dance frevo. Kertsman's time in New York influences the jazzy middle movement highlighted by laid-back bassoon and xylophone conversations, and a driving rhythm section. Two brief solo bassoon extended-technique Inträludiums between movements are exceptional. The jazzy Chamber Symphony No.2 "New York of 50 Doors" uses two main themes from an earlier work with a repetitive chromatic four-note melody, and extended synthesizer use adding unique sounds.
This original disc is a high-quality listening experience!