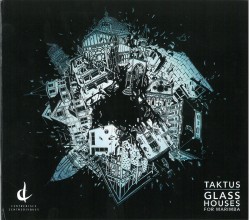 Glass Houses for Marimba – Music by Ann Southam
Taktus
Centrediscs CMCCD 21415
It was with great pleasure that I listened to Taktus (percussionists Greg Harrison and Jonny Smith) playing Glass Houses for Marimba. It was difficult not to compare this version to the piano pieces, which I have recorded; however, music should be experienced in the moment and in different interpretations so I enjoyed this CD.
In these performances tempi and articulation vary from the piano in interesting ways. No.5 by the marimbas clocks in at 5 minutes 21 seconds in comparison to the piano's 8 minutes 28 seconds. The marimbas play this Glass House in a slower tempo and make it more meditative, rather than the virtuosic piano version. I like that their version is quite different from the piano, although I do prefer No.5 with all its repeats, faster and with an edge. Glass House No.1 as heard here is twice as long as the piano version, although the tempi were comparable (more repeats were added). The shorter version is closer to the original score but the transcription from piano to marimba results in different tonal colours and phrasing.
I do think it is important to have different performances and interpretations. How boring music would be if everyone played the same way. I like the contrasting dynamics in No.7, which is almost three minutes slower than the original. Again, different sounds emerge from different instruments and this highlights the unique quality of this music. No.8 is wicked for the piano – there is a 33-note drone which the pianist must memorize in order to focus on the right hand melodies. Needless to say I relished hearing two people perform this difficult piece with such relaxed ease and expertise. My favourite Glass House in this CD was the performance by Taktus of No.9 because it accentuated the colours and delicate nuances of the marimbas. The playing throughout the CD was impeccable and articulate.
Editor's Note: Centrediscs will be re-issuing Christina Petrowska Quilico's piano recording of Ann Southam's complete Glass Houses as a 2-CD set in the coming months.