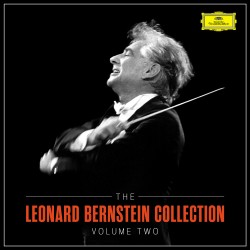 The Leonard Bernstein Collection Volume Two
Leonard Bernstein
Deutsche Grammophon 4795553
Review
The following is an excerpt from Old Wine in New Bottles - Fine Recordings Re-Released (June 2016) which can be read in its entirety here.
There is no doubt that Leonard Bernstein's later years were his very best, confirmed by all his recordings for Deutsche Grammophon, including those with the Vienna Philharmonic which had not played any Mahler for a long, long time until Bernstein stood before them. Volume One of The Leonard Bernstein Collection on DG (4791047, 59 CDs) covered composers from Beethoven to Liszt; completing his legacy on DG CDs, Volume Two (4795553, 64 CDs) takes us from Mahler to Wagner plus the earlier American Decca recordings.
Orchestras in this second volume are the Vienna Philharmonic, the Royal Concertgebouw, the Berlin Philharmonic (arguably the very best Mahler Ninth on record), the New York Philharmonic, the Chicago Symphony, Orchestre National de France, the Israel Philharmonic, Bavarian Radio Symphony and the Accademia Nazionale del Santa Cecilia. Collectors will be very happy to have the following assured performances, each followed by a spoken informative analysis, as recorded by American Decca in 1953 by Bernstein and the New York Philharmonic in Carnegie Hall: Beethoven's Eroica, Dvořák's New World, Schumann's Second, Brahms Fourth and the Tchaikovsky Sixth. If you have a chance, compare this confident 1953 Pathétique to the searching 1986 version – two very different worlds.
The care and attention lavished on the two editions, including the illustrated enclosures, honours the late maestro. Link to contents: deutschegrammophon.com/en/cat/4795553.