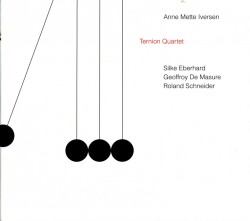 Ternion Quartet
Anne Mette Iversen
Brooklyn Jazz Underground Records BJUR 062 (bjurecords.com)
Review
The following review is an excerpt from Something in the Air (November 2017) which can be read in its entirety here.
The final variant of our theme involves trombone, saxophone, bass and drums. That's the configuration of Danish-born Anne Mette Iversen's Berlin-based Ternion Quartet (Brooklyn Jazz Underground Records BJUR 062 bjurecords.com). Iversen organized the group in 2015 with alto saxophonist Silke Eberhard, percussionist Roland Schneider (both German) and trombonist Geoffroy De Masure (French). Working in classic contemporary fashion with round-robin solos from the frontline firmly grounded by Iversen's bass pulse and rattling drum beats, the four never stray far from swing. This emphasis on foot-tapping also means that except for the odd cymbal slap and snare clunks on tunes such as Trio One Schneider stays in the background, with the bassist. Overall, the quartet's most notable work occurs on a trio of tunes placed in the CD's centre. Debacled Debate gives the trombonist space for vocalized cries, which evolve to bel canto grace notes decorated with twisted trills from Eberhard and a squirming bottom from the rhythm section. Reversing pitch roles, the saxophonist and trombonist extend A Cygnet's Eunoia by moving brass tones upwards and reed timbres downwards. Slippery smears from Eberhard and bottom burrs from De Masure result in harmonies that join to produce skipping swing. The trombone tone remains in the basement during Escapade #7. But before De Masure and Eberhard engage in some jaunty tune-ending call-and-response she constructs a Dolphyesque solo that's harsher and more dissonant, but doesn't upset the tune's forward motion.
Such coherent playing is an indication not only of the band's mutual musical understanding, but also marks an instance in which individual nationality is an invisible part of the performance. It's this connection to which all these ensembles aspire.