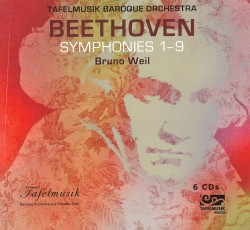 Beethoven – Symphonies 1-9
Tafelmusik Baroque Orchestra and Chamber Choir; Bruno Weil
TMK1034CD tafelmusik.org
Review
The following review is an excerpt from Editor's Corner (October 2017) which can be read in its entirety here.
Last month saw the release of a compiliation of recordings of Beethoven – Symphonies 1-9 featuring Tafelmusik Baroque Orchestra and Chamber Choir under the direction of Bruno Weil (TMK1034CD tafelmusik.org). All of the symphonies, recorded live at the George Weston Recital Hall (Nos.5 & 6 in 2004, 7 & 8 in 2008, for Analekta) and Koerner Hall (Nos.3 & 4 in 2012, 1 & 2 in 2013 and No.9 in 2016 for Tafelmusik Media), have been previously available but are here collected in an attactively priced boxed-set. Here's what our reviewers had to say of the original releases:
Symphonies 1-4: Bruno Weil, a longtime collaborator with the orchestra, draws a finely articulated and transparent response from the rarely seen Tafelmusik podium. The performances of the first two symphonies, though rich in detail, seem to take their time to fully blossom. […] though it gradually becomes evident that Weil is a master of the slow burn […] with a pair of powerful and scintillating finales. The renderings of the Third and Fourth Symphonies can be recommended without qualification; both are superb throughout. Daniel Foley, June 2014
Symphonies 5 & 6: Tafelmusik […] seem ever confident of bringing a revitalizing touch to works we've known intimately for a lifetime […] The strings are sparse and largely straight-toned, revealing surprising hues of colour in the wind parts. After years of big romantic orchestra performances this sound is wonderfully new, especially in the second and third movement of the Sixth Symphony. Their fourth movement "storm" is delightfully bad weather, reminiscent of The Four Seasons and the finale offers a slightly slower tempo than usually heard but works well nevertheless. […] It's been a long time since Five and Six sounded so new. Alex Baran, May 2005.
Symphonies 7 & 8: Their bright and animated approach brings a breath of fresh air to these familiar pieces. David Olds, December 2008
Symphony No.9: Make no mistake – Tafelmusik sounds just as powerful as any contemporary symphony orchestra. It builds the momentum of the emotional narrative with conviction, starting from the solemn D-Minor theme of the first movement all the way to the jubilant ending of the fourth in D Major. Tafelmusik Chamber Choir and soloists – Sigrid Plundrich, Mary-Ellen Nesi, Colin Balzer and Simon Tischler – are all superb in bringing out the purity and drama of Beethoven's music. Ivana Popovic, October 2016.
So all in all, reviews are favourable and at $40 for the complete set this collection should not be missed. The booklet includes bilingual biographical notes, an appreciation by conductor Bruno Weil, reflections on the journey with Weil during the more than decade-long project by music director Jeanne Lamon and extensive program notes by Allen Whear. As Tafelmusik launches its first season under the direction of Elisa Citterio this release provides a fitting monument to the orchestra's first three decades under Lamon's guiding hand.