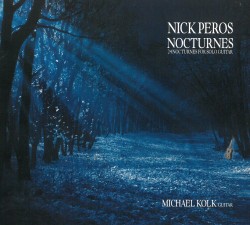 Nick Peros – Nocturnes: 24 Nocturnes for Solo Guitar
Michael Kolk
DeoSonic Music DSM54536 nickperos.com

Review
The following review is an excerpt from Strings Attached (October 2017) which can be read in its entirety here.
The outstanding Michael Kolk is the soloist in the world premiere recording of Nocturnes: 24 Nocturnes for Solo Guitar by the Canadian composer Nick Peros (DeoSonic Music DSM54536 nickperos.com). Peros has written numerous other solo works for classical guitar, including five Suites and a Sonata, and is clearly someone who knows and understands the instrument's potential for tone and colour.
The short pieces here are predominantly quiet, slow and pensive – they are nocturnes, after all – 16 of them with subtitles like relaxed; atmospheric, mysterious; reflective; as a dream; with mystery and longing; peaceful, gentle. Only two are noted as with fire and passion. They appear to be centred on traditional major and minor keys, predominantly the open guitar strings of E, A and D, but it's never that simple – there is actually a good deal of tonal ambiguity here, and an abundance of rich chromatic expression.
They are well-crafted, attractive and quite beguiling pieces, with the occasional faster numbers in particular much in the style of the standard 19th- and 20th-century guitar etudes. The final two Nocturnes in particular are really lovely.
One thing is certain: they couldn't possibly have a better interpreter than Michael Kolk, whose playing, as always, is of the highest musical standard – technically faultless, with a clear, clean and resonant sound, and a complete absence of left-hand finger noise. The CD was produced by the composer, and it's difficult to view these beautiful performances as anything other than definitive.