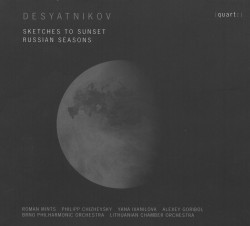 Leonid Desyatnikov – Sketches to Sunset; Russian Seasons
Roman Mints
quartz QTZ 2122 quartzmusic.com

Review
The following review is an excerpt from Strings Attached (October 2017) which can be read in its entirety here.
I don't recall ever hearing any music by the Russian composer Leonid Desyatnikov (b.1955) before, but I've clearly been missing out on some strikingly individual compositions. Two of his works – Sketches to Sunset and Russian Seasons – are featured on a new CD on which violinist Roman Mints is the primary artist (quartz QTZ 2122 quartzmusic.com).
Sketches to Sunset from 1992 is based on music written for the film Sunset, about the lives of Jews in pre-Revolution Odessa. Written for violin, piano and orchestra and consisting of nine short connected movements, it also features pianist Alexey Goribol and the Brno Philharmonic Orchestra under Philipp Chizhevsky. Mints is superb in this eclectic work that first introduced him to Desyatnikov's music some 20 years ago.
Russian Seasons for Voice, Violin and Strings from 2000 has a quite different feel. There are 12 movements, three for each season: Spring, Summer and Winter each have two instrumental tracks and one vocal; Autumn has one instrumental and two vocal tracks. Yana Ivanilova is the soprano in vocal sections that are strongly reminiscent of Stravinsky of Pribaoutki and Les Noces, with the orchestra this time being the Lithuanian Chamber Orchestra. It's difficult music to describe, but in his excellent booklet notes Mints says that "while the instrumental movements feature moments of joy and merriment, utter hopelessness dominates the five vocal movements, in which the composer addresses listeners directly in words." Shades of Shostakovich, indeed.
Both works were recorded under the supervision of the composer, with the Sketches to Sunset being a world premiere recording.