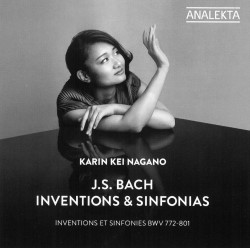 J.S. Bach Inventions & Sinfonias BWV 772-801
Karin Kei Nagano
Analekta AN 2 8771
Review
The following review is an excerpt from Keyed In (October 2017) which can be read in its entirety here.
Karin Kei Nagano is the daughter of the conductor Kent Nagano and concert pianist Mari Kodama. Her debut solo recording J.S. Bach Inventions & Sinfonias BWV 772-801 (Analekta AN 2 8771) presents a favourite and meaningful repertoire choice from her early piano studies.
The story is well known, of how Bach intended these two- and three-part exercises to teach his students the fundamentals of keyboard playing and composition. Equally important for him was that his pupils develop a true lyrical style to their playing. For Nagano, the connection to these early studies is their beautiful melodic potential. Whether Bach uses a short motif or a longer idea, Nagano is seized by the possibilities they offer. Consequently her playing goes far beyond meeting the technical requirements of counterpoint lessons and reaches for the beauty of what only a creative mind such as Bach's could have placed there.
Nagano's playing reveals a level of care and consideration that directs her inquiry into the pursuit of the art before the form, as if somehow the latter will look after itself. This characteristic is more evident in her treatment of the three-part Sinfonias, where the material is richer and offers a greater reward for the player's attention to it.
Now embarking on her 20s, Nagano is off to Yale in pursuit of medical studies. Let's hope this recording whets her appetite to do more before too long.