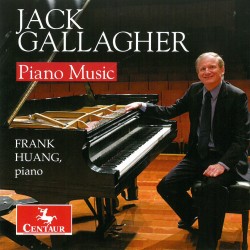 Jack Gallagher - Piano Music
Frank Huang
Centaur CRC 3522
Review
The following review is an excerpt from Keyed In (February 2017) which can be read in its entirety here.
American composer Jack Gallagher claims the piano is not his principal instrument, but his apology evaporates as soon as you hear his music. In Jack Gallagher Piano Music (Centaur CRC 3522) pianist Frank Huang captures the colour and imagination of Gallagher's writing whether in works lighthearted or those more cerebral.
Gallagher writes with a great care for structure. Form and planning are important to him. This makes his works easy to navigate for both listener and performer while he evolves his more complex musical material.
Huang plays this repertoire with ease and familiarity. Works like the Sonata for Piano are very technically demanding as is Malambo Nouveau. Others like Six Bagatelles and Sonatina for Piano, less so. Still, works like Six Pieces for Kelly, written specifically for young performers, never lack for a mature and profoundly musical touch. Every so often a Gershwin-like harmony slips by, leaving an echo of Broadway and a reminder of how American this music is.
Huang's performance is confident, bold and celebratory; Gallagher's writing seems to induce those qualities. This recording is a perfect match between composer and performer.