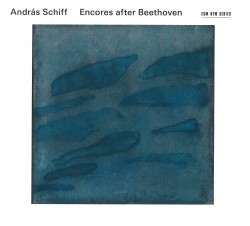 Encores after Beethoven
Andras Schiff
ECM New Series 1950 B0025872-02
Review
The following review is an excerpt from Keyed In (April 2017) which can be read in its entirety here.
Blechacz was the winner of the 15th International Chopin Piano Competition. This is his sixth recording for Deutsche Grammophon in addition to a handful of others. You might as well start collecting them now. Andras Schiff presented his cycle of the 32 Beethoven sonatas at the Zürich Tonhalle from 2004 to 2006. His choice of encore after each concert was quite deliberate and they have now been compiled into Encores after Beethoven (ECM New Series 1950 B0025872-02).
Schiff sought to link the encore in some musical way to the sonatas he'd played on the program that night. These live recordings document his choices. Although now separated from their original context, they still carry a residual connection to the music that preceded them, and Schiff uses his notes as a brief outline to explain these relationships.
The opening selections by Schubert, from Three Piano Pieces D946 and Allegretto in C Minor D915 are linked by a strong conceptual kinship to Beethoven's Sonatas Op.2 and Op.7 as well as Op.10 and Op.13. The Mozart encore Eine Kleine Gigue in G Major K574 is a humourous study in fugal form like the finale of Beethoven's Sonata Op.10 No.2 on that evening's program.
Beethoven had originally intended the Andante Favori in F Major WoO57 to be the second movement of the Waldstein Sonata Op. 53, before eventually setting it aside. Schiff used it as the encore for his performance of the Waldstein.
The final movement of the Hammerklavier is an enormous fugue, understood to reflect Beethoven's admiration for Bach and his evolution of the form. Schiff's choice of encore for that performance was Bach's Prelude and Fugue in B Flat Minor BWV867.
The encores are presented on the disc in the date sequence of their performance and show the program information that preceded them. The Zurich audiences listen in rapt silence and reveal themselves only to applaud enthusiastically.