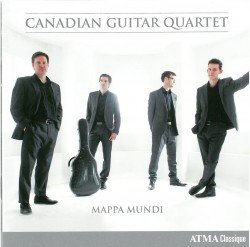 Mappa Mundi
Canadian Guitar Quartet
ATMA Classique ACD2 2750
Review
The following review is an excerpt from Strings Attached (March 2017) which can be read in its entirety here.
There's more terrific guitar playing on Mappa Mundi, the new CD with a mixture of old and new works from the Canadian Guitar Quartet of Julien Bisaillon, Renaud Côté-Giguère, Bruno Roussel and Louis Trépanier (ATMA Classique ACD2 2750).
Vivaldi's Concerto in G Minor for Two Cellos RV531 works extremely well in Roussel's arrangement, with all four guitarists sharing the two solo lines at some point in the three movements.
The other four works on the CD are all comparatively recent compositions. Fille de cuivre (Copper Girl) by quartet member Côté-Giguère explores the conflicting emotions when outward persona is not matched by inner self; it was inspired by the metal-welding works of Québecois sculptor Jean-Louis Émond, whose sculptures include a woman with a perfectly polished front but an open back revealing the rough inner welds.
Concierto Tradicionuevo by Patrick Roux (b.1962) is a terrific homage to the Argentinian tango, with particular nods to the 1930s singer Carlos Gardel and – in a particularly dazzling movement – Astor Piazzolla.
Octopus, by the German composer Hans Brüderl (b.1959) was originally a work for eight guitars (hence the title pun: Oct-Opus) written for the Canadian Guitar Quartet and the Salzburg Guitar Quartet; the former enjoyed it so much that Brüderl adapted it for four guitars. It's a delightful piece with a real "Wow!" factor.
The CD's title work Mappa Mundi was written by the Canadian composer Christine Donkin (b.1976) and is a portrayal of four of the images on the 14th-century world map held at Hereford Cathedral in England. Cellist Rachel Mercer joins the quartet in the Tower of Babel movement, the cello representing the voice of God!
These are all substantial, captivating works, beautifully played and recorded.