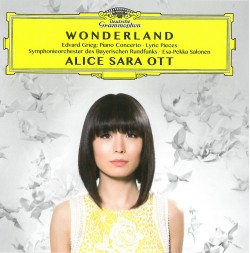 Wonderland – Grieg Piano Concerto; Lyric Pieces
Alice Sara Ott
Deutsche Grammophon 479 4631
Review
The following is an excerpt from Keyed In (December 2016) which can be read in its entirety here.
Grieg's mystical introspection is also pursued in a new recording by Alice Sara Ott, Wonderland – Grieg Piano Concerto; Lyric Pieces (Deutsche Grammophon 479 4631). By the time Ott made this recording, she'd had the Grieg Concerto in A Minor Op.16 in her repertoire for ten years. That's enough time to come to own the music and weave its threads into the fabric of her own artistic being.
Her personal stamp on this work shapes it in unique ways. Phrasings are often quite unusual and the pace of the work is slower than often heard. She very deliberately lets us know that she is exploring something of natural mysticism. She calls it Grieg's "wonderland."
The orchestra too, under Essa-Pekka Salonen, is in full agreement with this approach. Nothing, absolutely nothing is hurried in this performance. Only the final movement is near the traditional tempo. The effect of this on the concerto is to take an already monumental piece to an even grander scale.
Ott's quest for Grieg the mystic continues through her playing of selections from the Lyric Pieces and Peer Gynt where Notturno and Solveig's Song, respectively, reflect this most poignantly. There's plenty of raw folk energy as well though; March of the Trolls (Lyric Pieces Book V, Op.54) and In the Hall of the Mountain King (Peer Gynt Suite No.1) leave no doubt about the dark side of Nordic myths.