Dutilleux – Symphony No.1; Deux Sonnets de Jean Cassou; Métaboles
Paul Armin Edelmann; Deutsche Staatsphilharmonie Rheinland-Pfalz; Karl-Heinz Steffens
Capriccio C5242
Dutilleux – Métaboles; L'arbre des songes; Symphony No.2 «Le double»
Augustin Hadelich; Seattle Symphony; Ludovic Morlot
Seattle Symphony SSM1007
Dutilleux – Tout un monde lointain
Emmanuelle Bertrand; Pascal Amoyel; Luzerner Sinfonieorchester; James Gaffigan
harmonia mundi HMC 902209
Last month was French composer Henri Dutilleux's centennial, and commemorative recordings of his meticulously crafted works began appearing in the middle of last year. Despite the premature arrival of these particular discs, however, a reappraisal of his music has long been overdue. A relatively small oeuvre, combined with a high-placed enemy in the form of a young Pierre Boulez, worked to consign Dutilleux to relative obscurity for nearly all but the last two decades of his 97-year life.
What's more, the music which he did permit, after years of revision, to pass through the pinpoint mesh of his self-criticism never had pretensions of epoch-making in the first place. There is no avant-garde formalistic demagoguery, no school of thought behind his work (though the long shadows of Ravel and Berg loom). Instead, Dutilleux commandeers entire orchestras, as Proust commandeered thousands and thousands of pages, to convey nothing more than a deeply personal – though phantasmagorical – inner world.
Comparisons to artists in other mediums always abound when one speaks of Dutilleux, likely because he makes no secret of his debts to the Belle Époque; he has also cited Baudelaire and Van Gogh as inspirations. And yet his music is rarely programmatic, or even narrativistic. If anything, it is architectural; his pieces often feel like they occupy considerable space, like musical edifices composed of forces held in perfect equilibrium.
Review
His first major work to embody this panoramic style is his most performed. Written in 1964 for the Cleveland Orchestra, Métaboles is a précis of Dutilleux's work. Tired with the thesis-antithesis of theme A versus theme B, Dutilleux looked to nature in search of a more malleable symphonic form. There he saw that, given enough transformations, evolution could bridge unimaginable gaps between organisms (as that between, say, a primordial bacteria and a human being). Adapting this model to Métaboles, he steadily modifies his thematic material until it becomes unrecognizable – yet still inextricably linked through a kind of musical metabolism to the material which germinated it.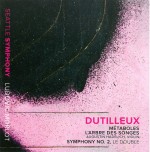 Two fine recordings of this piece appeared last year. The first, recorded by Karl-Heinz Steffens and the Deutsche Staatsphilharmonie Rheinland-Pfalz, is expansive, smoothing the kaleidoscope turn of Métaboles' transformations. The next, recorded by Ludovic Morlot with the Seattle Symphony, is notable for its excellent mastering, which enhances the work's already galactic compass. Taken together, these CDs present a kind of "métaboles" of Dutilleux' entire career: the Rheinland-Pfalz disc contains his early works, including a rare vocal setting, while the Seattle recording features a brilliant performance of Dutilleux's late violin concerto by Augustin Hadelich (entitled L'arbre des songes, it too draws inspiration from nature and has structural similarities with Métaboles).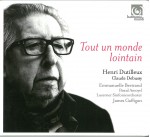 Filling in the gaps is Emmanuelle Bertrand's performance of the Baudelaire-inspired cello concerto, "Tout un monde lointain…" with the Luzerner Sinfonieorchester. The concerto is worth the price of admission alone – it is perhaps his greatest work, ably performed here – but the CD also includes some historical context with a recording of Debussy's cello sonata. Sensibly enough, for though Dutilleux was scorned by the Paris establishment, he was one of its rightful heirs. The recordings appearing now on this important anniversary are the definitive proof.