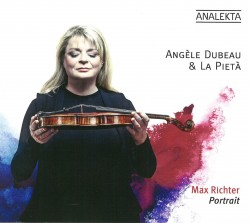 Portrait: Max Richter
Angèle Dubeau and La Pietà
Analekta AN 2 8745

Review
The following review is an excerpt from Strings Attached (December 2017/January 2018) which can be read in its entirety here.
Angèle Dubeau and La Pietà are back with another CD in their Portrait series, this time featuring music by Max Richter, who has been particularly active in film, theatre and television (Analekta AN 2 8745).
Previous Portrait CDs featured Philip Glass, Arvo Pärt, John Adams and Ludovico Einaudi, and Dubeau says that the more she listens to composers gravitating around the minimalist movement the more she wants to interpret their music: "I enjoy the moments of introspection that these works bring."
Those moments are possibly the result of the lack of any real development: each of the 16 short pieces here (15 are less than five minutes) essentially sets a mood and keeps it, with little opportunity for anything other than "Here's an idea…"
Apart from the really lovely Mercy for solo violin and piano, and Winter II, recomposed by Richter from Vivaldi's The Four Seasons, all tracks are arrangements by François Vallières and Dubeau of pieces from Richter's solo albums Memoryhouse, The Blue Notebooks – Disconnect, Songs From Before and From Sleep, the films Waltz with Bashir and Perfect Sense, and the television scores for The Leftovers and Black Mirror-Nosedive.
As always, playing and recording standards are absolutely top-notch. It's essentially easy, pleasant – and, yes, introspective – listening that will be warmly welcomed by Dubeau's many regular admirers.