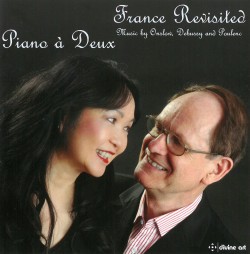 France Revisited: Music by Onslow, Debussy and Poulenc
Piano à Deux
Divine Art dda 25132
Review
The following review is an excerpt from Keyed In (December 2017/January 2018) which can be read in its entirety here.
Robert and Linda Ang Stoodley style themselves as Piano à Deux. Their new disc, France Revisited – Music by Onslow, Debussy and Poulenc (Divine Art dda 25132) is an example of piano four hands performance at its very best. One of the disc's many treats is the appearance of music by George Onslow. Because his oeuvre is largely for chamber strings, his very few piano works tend to be overlooked. The unique voice of this 19th-century composer is deeply intriguing as heard in the Sonata for Piano Four Hands No.1 in E Minor Op.7. It's surprisingly forward looking despite its early catalogue entry.
Petite Suite delivers all the rich impressionistic orchestrations with which we associate Claude Debussy, and Piano à Deux are consistently excellent in how they portray the composer's lightly programmatic intent.
The duo has also transcribed the Poulenc Chansons de l'amour et de la guerre, and done so with a gifted ear that preserves the wistful nostalgia that Poulenc infused into each song.