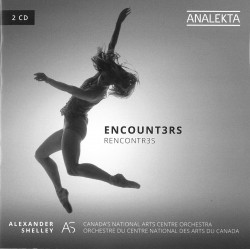 Encount3rs
National Arts Centre Orchestra; Alexander Shelley
Analekta AN 2 8871-2 (analekta.com)
Review
This past April, three new abstract ballets (lacking storylines), each lasting about half an hour, premiered at Ottawa's National Arts Centre. This 2CD set presents their scores, created by three Canadian composers already-prominent in their 30s and 40s.
According to Phi, Caelestis choreographer Jean Grand-Maître, "Ten seemingly nude dancers" perform "a whirlwind of raw, emotional, primal and often erotic gestures before a backdrop of contrasting aesthetics." The first movement of Andrew Staniland's atmospheric score is steadily motoric; the next two are slow and solemn, creating the intended striking contrast between the dancing and the music.
Nicole Lizée's colourful orchestral score for Keep Driving, I'm Dreaming utilizes "archaic" electronic devices, including turntables and reel-to-reel machines. It's a collage of many stylistically unrelated episodes, with bits of pop music and science-fiction sound effects. The audience members, if not the dancers, were probably kept on their toes, wondering what they would hear next.
Dark Angels, writes choreographer Guillaume Coté, reflects "the resistance and struggle that one can experience living in new territory." Kevin Lau says his score "resembles a symphony in scope and form," beginning and ending with a "hammer" of six repeated notes. It's surely more symphonic than balletic, in three connected sections – a powerful Allegro, a slow middle highlighting a heartfelt cello solo and a propulsive, percussion-heavy finale.
Alexander Shelley and the NAC Orchestra give these disparate, attention-grabbing-and-holding scores the committed, high-energy performances they richly deserve.