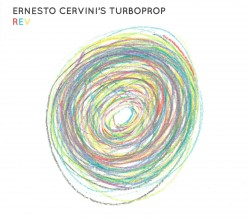 REV
Ernesto Cervini's Turboprop
Anzic Records ANZ-0089-2 (ernestocervini.com)
Review
In 2015, entrepreneur, composer and drummer Ernesto Cervini introduced his North American Sextet, Turboprop, featuring a cross-section of noted contemporary jazz musicians, including Tara Davidson on alto and soprano sax, Joel Frahm on tenor, William Carn on trombone, Adrean Farrugia on piano and Dan Loomis on bass. Their debut self-titled CD was a huge success.
Cervini and company's brand-new offering includes five original pieces (two composed by Cervini – who also acts as producer here), two pop covers and one vintage Tin-Pan-Alley-era jazz standard. The project is also masterfully recorded by John "Beetle" Bailey, capturing all of the dynamism and excitement of a live performance, and mixed on the hot side, with a definite New York City sensibility.
Farrugia is without question one of the most extraordinarily talented young jazz pianist/composers on the scene today, and his composition The Libertine is a perfect opener for REV. The tune kicks things off with a tasty drum intro from Cervini, followed by seamless section work and non-Euclidean penetrating lines, rife with dynamics and sonic colours, as well as a complex and percussive piano solo by Farrugia and burning tenor work from Frahm. Another standout is Cervini's Granada Bus, which strives to capture the essence of Spain, and shines with a stirring solo on soprano from Davidson.
Other strong contributions include the full-throttle, post-bop title track, Radiohead's The Daily Mail, featuring a stellar bass solo from Loomis, and the swinging and soulful Med Flory-ish Pennies From Heaven. Truly something for everyone!