The Greatest Invention
Harley Card
Independent DYM003 (harleycard.ca)
Hypnagogia Polis
Simon Legault; Jules Payette; Andrew Boudreau; Adrian Vedady; Louis-Vincent Hamel
Effendi Records FND146 (effendirecords.com)
Two new and strikingly different albums by Canadian jazz guitarists demonstrate the health and diversity of that instrument in this country.
Review
Harley Card has been active in the Toronto music scene since 2003 as a sideman, composer, teacher and bandleader. The Greatest Invention is the third album under his own name and features Card on guitar with Jon Maharaj (bass), Matt Newton (piano), David French (saxophone) and Ethan Ardelli (drums). The "invention" is the bicycle and the album opens with the title tune, containing a repeating riff reminiscent of spinning gears or wheels. The orchestration is sophisticated, with Card's guitar and French's resonant tenor saxophone weaving throughout most of the piece, sometimes in harmony, other times with alternating melodies while the drums and piano punctuate the piece with their own counterpoint. This initial song sets the tone for the album, which highlights Card's compositional skills. The song is four and a half minutes but the only solo (guitar) lasts 90 seconds; the rest is intricate ensemble playing.
Card's liner notes add insight to our listening and he mentions studying with Phil Nimmons, an influence that is heard throughout. It is a treat to listen to a jazz album that develops compositional and ensemble ideas at length rather than the more typical head/solo(s)/head structure. The most ambitious piece is The Shadows of Shea Pines, which is almost nine minutes with three movements. It begins with a slow saxophone and acoustic guitar ballad (with a touch of Epistrophy) then moves into smooth jazz and finishes with a melodic bossa nova-inspired section.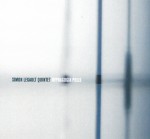 Hypnagogia Polis is Montreal guitarist Simon Legault's third album and the first with a quintet. Hypnogogia is the transitional state from wakefulness to sleep and many of the songs have a hypnotic, luminescent quality. The opening Aethereal Spheres begins with a wickedly tight ostinato pattern set up by the piano (Andrew Boudreau) and bass (Adrian Vedady). Then the saxophone (Jules Payette) and guitar enter with a contrapuntal unison melody while Louis-Vincent Hamel's drums underpin the action. This sophisticated playfulness permeates the album. Euphemized Blues has a groovy lilting melody which loops around several times before Legault takes off on one of his lyrical and swirling solos.
Legault's album benefits from the virtuosity of the soloists. The tunes are inventive and reminiscent of Metheny or Scofield, but the highlights are the freewheeling improvisations, particularly with Legault's fleet lines and Payette's wailing and lyrical sax. Boudreau adds some fine piano work as well and it all makes for a clever and sophisticated disc.