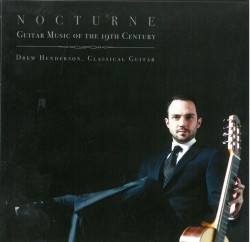 Nocturne - Guitar Music of the 19th Century
Drew Henderson
classicalguitarist.ca
Review
The following is an excerpt from Strings Attached (September 2015) which can be read in its entirety here.
The Toronto-based Canadian guitarist Drew Henderson is probably best known as a performer as one half of the Henderson-Kolk Duo with Michael Kolk, whose Mosaic solo CD was reviewed in this column in March 2014. Nocturne – Guitar Music of the 19th Century is Henderson's independent first solo release (classicalguitarist.ca). His playing puts me very much in mind of Kolk's, which is saying a great deal: there's the same outstanding technique with unerring accuracy and cleanness; a clear, rich tone across the board; lovely dynamics; virtually no finger noise; and above all a beautiful sense of line and phrase.
Henderson has chosen a varied and interesting recital program. Giulio Regondi was a child prodigy in the early 1800s, and is represented here by his Nocturne "Reverie" Op.19 and Introduction et Caprice Op.23. Henderson plays an eight-string guitar on the CD, which enables him to include the usually-omitted bass notes in Les Soirées d'Auteuil Op.23 by Napoléon Coste, who often wrote for a seven-string guitar. Four Capricci from Luigi Legnani's 36 Capricci per la Chitarra Op.20 and a simply dazzling performance of Paganini's Grand Sonata in A Major round out a superb disc.
The CD was recorded two years ago in the Church of St. Mary Magdalene in Toronto, with Henderson handling the recording and editing himself; he did an outstanding job. Henderson has technique and musicianship to burn, and has produced a simply terrific CD.