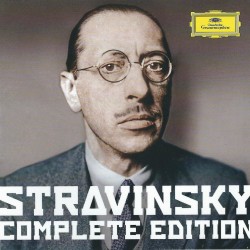 Stravinsky: Complete Edition
Various Artists
Deutsche Grammophon 4794650
Review
The following is an excerpt from Old Wine in New Bottles: Fine Recordings Re-Released (December 2015) which can be read in its entirety here.
Over 100 years have elapsed since Stravinsky's ballet, Le Sacre du Printemps precipitated near riots at its Diaghilev Ballet premiere in Paris. And yet it is still the very first work that comes to mind at the mention of Stravinsky, even though his style and compositions in different genres changed many times over his 88 years. DG has assembled a 30-CD cube set, Stravinsky Complete Edition (DG 4794650), containing, presumably, everything published.
The first dozen discs are devoted to the 19 stage works on which his fame mostly rests, beginning with The Firebird (1909/10), Petrouchka (1910/11), Le Sacre (1911/13), The Nightingale (1908/09,1913/14) etc., through to The Flood, written for television in 1962. The list also includes The Rakes Progress (1951), an opera in three acts. Conductors include Boulez, Chailly, Abbado, Rozhdestvensky, Bernstein, Levine, Knussen, Nagano, Gardiner and Ashkenazy.
The six discs of orchestral music and concerted works include the Circus Polka for a young elephant, first performed by a ballet of elephants in the spring of 1942. With things being what they are, today it is performed without the elephants. The suites from Firebird and Petrouchka are here as is the Ebony Concerto from 1945 written for the Woody Herman band. Altogether some 36 shorter, jaunty pieces make entertaining listening. Conductors are Boulez, Mackerras, Ashkenazy, Pletnev, Davies, Craft, Bernstein, Bychkov and Knussen, with Rafael Kubelik minding the elephants.
Three discs of choral music include the Symphony of Psalms and 15 other works including Threni and Mass for mixed chorus and double wind quintet, conducted by John Eliot Gardiner, Craft and Bernstein.
There are two more discs devoted to solo vocals and two each for chamber music and piano music. Two discs of historic recordings plus a bonus disc of Le Sacre for two pianos played by Martha Argerich and Daniel Barenboim recorded in April, 2014. Watch the video trailer at youtube.com/watch?v=kEKZGnUZZec.
So there it is… splendid performances of all he wrote occupying only 133 mm of shelf space.