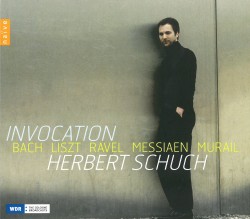 Invocation
Herbert Schuch
Naïve discoveries V 5362
Review
Since he first attracted attention by winning three important competitions – the Casagrande, the London International Piano Competition and the International Beethoven Competition in Vienna, Romanian-born pianist Herbert Schuch has been regarded as an artist less focused on flash and pizzazz and more on thoughtful and sensitive interpretation. This is certainly the case with his newest CD, Invocation. As a basis for the recording – his tenth – he used his fascination with bells and their sonorities, reflected in the inclusion of three 20th-century works: Tristan Murail's Cloches d'adieu, Messiaen's Cloches d'angoisse and La vallée des cloches by Ravel. Apart from Bach transcriptions by Ferruccio Busoni and Harold Bauer, the other compositions are all by Franz Liszt, resulting in a most intriguing program.
What makes this disc particularly appealing is the juxtaposition of musical styles. It opens with a Busoni transcription of Bach's chorale Ich ruf zu dir, her jesu Christ BWV639, music of quiet introspection. In total contrast is the short piece by Tristan Murail from 1992, music showing distinct influences of Messiaen with its tone clusters and use of polymodality. We're then back in the 19th century for three movements from Liszt's set of Harmonies poétiques et religieuses. The third and seventh, Benédiction de dieu dans la solitude and Funérailles are large-scale canvases that should be undertaken by only the most capable of Liszt players, but Shuch handles the technical requirements with apparent ease, achieving a wonderfully sonorous tone throughout. The pieces by Messiaen and Ravel are moody and mysterious, and Shuch's refined interpretation demonstrates a compelling sense of rhythm and nuance.
Eclectic and thoughtfully programmed, Invocation is a tribute to a wide range of piano music performed in a manner that combines sensitivity with brilliance – and as such, it is a most welcome addition to the catalogue.