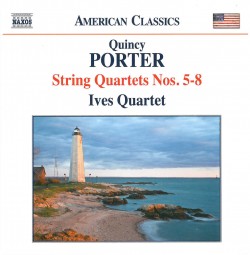 Quincy Porter - String Quartets Nos.5-8
Ives Quartet
Naxos 8.559781
Review
The following is an excerpt from Strings Attached (October 2015) which can be read in its entirety here.
While he was on the faculty at Cleveland's Mannes School of Music from 1917 to 1920 Ernest Bloch taught a number of young American composers, among whom was Quincy Porter. Porter's String Quartets Nos.5-8 feature on a new CD from Naxos (8.559781), which continues to issue terrific recordings of music that, if not exactly off the beaten track, thrives along the sides of the main musical highways. Quartets Nos.1-4 were issued on Naxos 8.559305 in 2007, to glowing reviews.
Porter was a professional string player in the 1920s, and the four works here, written between 1935 and 1950, show just how well he understood the medium: they are idiomatic and immediately accessible, very appealing, strongly tonal and highly expressive.
Recorded between 2008 and 2012, the performances by the Ives Quartet are of the highest quality.