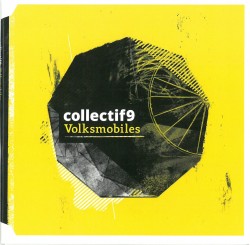 Volksmobiles
collectif9
Independent (collectif9.ca)
Review
The following is an excerpt from Strings Attached (March 2016) which can be read in its entirety here.
Volksmobiles
is the quite fascinating
first CD
from
collectif9
(collectif9.ca)
, the Montreal string ensemble that made its debut in 2011 and is composed of four violins, two violas, two cellos and a bass. The players met through their studies at McGill University and the Université de Montréal, and their assertion that the ensemble size enables them to combine the power of an orchestra with the crispness of a chamber ensemble is more than justified by the results here.
Two arrangements by the group's bass player Thibault Bertin-Maghit open the program: a simply dazzling version of Brahms' Rondo alla zingarese (check out the video on their website!) and a short but effective transcription of the Allegretto from Alfred Schnittke's Violin Sonata No.1.
The central work on the disc is the title track, a short three-part piece commissioned by the group from the Guelph composer Geof Holbrook. Its opening movement has more than a hint of Marjan Mozetich about it (no bad thing!) and the third movement is a clever mixture of percussive effects and pizzicato.
A condensed Allegro assai from Bartok's Divertimento is a more substantial piece played with a great sense of style, and André Gagnon's really short but exuberant Petit concerto pour Carignan, an homage to the legendary Quebecois fiddler Jean Carignan, rounds out the disc with a wicked cross-mixture of Bach and fiddle music.
I have only one complaint, and although it's a big one it's also a positive one: clocking in at just over 29 minutes for the seven tracks, the disc feels more like a sampler CD than a debut disc, and it certainly leaves you really wanting to see what the group does with a more substantial program. Hopefully we will be hearing a great deal more – in both quantity and length – from this dynamic ensemble in the not-too-distant future.
Concert Note: You can hear collectif9 live courtesy of Music Toronto at Jane Mallett Theatre on March 10. The program will include the Holbrook mentioned above and works by Brahms, Shostakovich, Bartók, Schnittke, Hindemith and Prokofiev. collectif9 also performs at Cairns Recital Hall in St. Catherines on May 4, 2016 at 7:30 and the Burlington Performing Arts Centre on May 5 at 8.