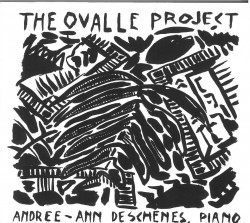 The Ovalle Project
Andree-Ann Deschenes
(aadpiano.com/the-ovalle-project)
Listen
III. Legenda op.23
Lembrancas de Sao Leopoldo op.11, II. Paqueta
Aboio op.8
Read the Review
The following review is an excerpt from Keyed In (March 2019) which can be read in its entirety here.
Andree-Ann Deschenes is a California-based French-Canadian pianist. Her new 2CD set The Ovalle Project (aadpiano.com/the-ovalle-project) celebrates the music of Jayme Ovalle, a Brazilian composer of the first half of the 20th century. Ovalle wrote a modest body of works that include some songs, instrumental pieces and 24 compositions for piano. They are varied in style and length but generally conform to classical Western forms and tend toward character pieces and dances but also include several virtuosic works. Deschenes' website describes her attraction to the music and its harmonic richness, density and chromaticism. She has spent some time searching for scores and assembling the manuscripts to be able to record the 24 piano pieces.
The most substantial items in the set are the three Legenda Opp.19, 22 and 23. These are conceived on a larger scale than most of the other material. Massive chords and a wider dynamic make these stand out quite impressively. By contrast Album de Isolda Op.27 is simple and at times seems to have been written in the spirit of a Baroque exercise.
Ovalle's writing takes a few risks with tonality but only rarely. Rhythm is his principle tool and Deschenes uses this masterfully. She has a natural affinity for the Latin spirit of this music and Ovalle's harmonic language. There's a surprising amount of very satisfying variety in this program, aided significantly by Deschenes' obviously passionate interest in Ovalle's work.