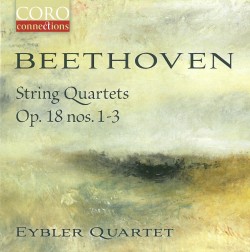 Coro Connections COR16164 eyblerquartet.com
Read the Review
The following review is an excerpt from Strings Attached (April 2018) which can be read in its entirety here.
That, however, is exactly what Toronto's Eybler Quartet does with its simply stunning CD of Beethoven's first efforts in the genre, the String Quartets Op.18 Nos.1-3, on instruments appropriate to the period (Coro Connections COR16164 eyblerquartet.com).
In his perceptive booklet essay violist Patrick Jordan notes that the Eybler's emphasis on pre-Beethoven repertoire meant that they approached the early Beethoven quartets as "new music," with the aim of re-learning how to play them to Beethoven's exact specifications. This entailed not only sorting out issues with the various sources but also – and most importantly – deciding to adhere to Beethoven's tempo markings, which at times are excessively fast or slow and have long been the subject of animated discussion, though rarely followed.
The results, particularly with the faster movements, are quite astonishing, from the brisk opening of the F Major Op.18 No.1 through to the dazzling Presto finale of the D Major Op.18 No.3. Technical virtuosity doesn't begin to do justice to the playing here – there's jaw-dropping agility, clarity and accuracy in the playing, allied with terrific dynamics and nuance, outstanding ensemble work, a lovely warm tone with a judicial use of vibrato and an unerring sense of period style.
I doubt if you've heard these works sound like this before – it's absolutely essential listening. Volume 2 with Op.18 Nos.4-6 is apparently in preparation. I can hardly wait!